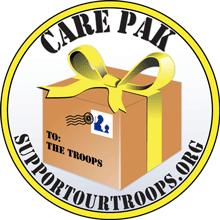 Support Our Troops® Care Packages enhance the morale and well-being of the deployed troops worldwide by seeking, receiving, and shipping to the front lines care boxes containing items specifically requested by the deployed troops. This is especially important outside the established holidays.
TROOPS: Use the Contact form to request Care Packages.
DONORS: As of 7-8-2017 we have a hold on accepting donated goods.
This alternate program page displays during periods where SOT has sufficient goods on hand to meet the needs and additional goods would overtake the warehouse.
The goods solicitation page will display again wh*- en we near the point where more goods will be needed.
In the meantime, please donate money to ship the care goods we have on hand!. Some weeks we have hit $20,000 in shipping costs!
DONATE MONEY TO SHIP CARE GOODS
SupportOurTroops.Org is a 501(c)(3) nonprofit corporation and your donation to the Care Package program is tax deductible.