SEND THIS RELEASE TO YOUR LOCAL RADIO STATIONS, TV STATIONS, AND NEWSPAPERS.
National Call for Christmas Care Goods for the Troops!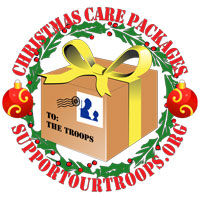 AMERICA, NOVEMBER 14, 2023 - Our soldiers do the impossible for us every day! This Christmas let's put the biggest smiles ever on their faces! We're Americans – we can do anything! So this Christmas season we're all stepping up for them the way they step up for all of us year 'round. It's simple! You get it to us, we get it to them.
If you are an electronic publication you can send your readers to the Christmas Care Package page If you are a print publication you can ask your readers to go to SupportOurTroops.Org and click on the Christmas Care Package Logo.
They will find a list of things the troops are requesting, and the rules.
The goods are sent to:
Support Our Troops®
Care Goods Facility
3928 Lee Street
Ayden, NC 28513
All Together Now!®
---
Just saying thanks! Hello. We just received a ton of seasonal goodies and I wanted to say thank-you! Merry Christmas and Happy New Year! ~~ FP's somewhere in the desert...
---
I wanted to say thank you so much for sending out the care package to my airman. She received the box today and she was literally in tears and could not believe that there are people who cared enough to send her a box. She said she felt like it was Christmas or better because she has not had a Christmas since she was younger. It was great seeing her tell everyone who walked in the office about the box. Again, thank you and your team for taking the time to think of us over here and we truly do appreciate your support! ~~ SSgt Linda [ ] -----
---
Contact for questions and interview requests:
Phone: 877-879-8882
Email: This email address is being protected from spambots. You need JavaScript enabled to view it.
---
Permission is granted to republish this material without compensation or further permission. Anyone doing so is welcome to use and post the Christmas Care Package Logo and the Santa & Soldiers Photo, in any print or electronic media to spread the word. They can be downloaded form the program page on the site or via the links below. You may also link to the Care Package Program web page.
Logo link: https://supportourtroops.org/images/2023-christmas/Care-packages-logo-christmas-2023.png
photo link: https://supportourtroops.org/images/2023-christmas/2023-support-our-troops-org-christmas-care-packages.png
care package page link: https://supportourtroops.org/care-packages