Meet Your Military: Soldier Rescues Woman From Alligator-infested Pond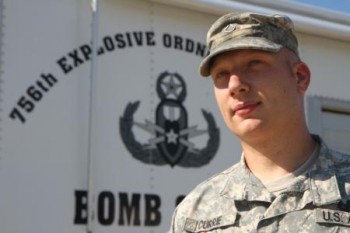 PHOTO: Army Pfc. Nathan Currie, an explosive ordnance disposal technician with the 756th Explosive Ordnance Detachment, recently helped save a woman's life after her car went into an alligator- and snake-infested pond on Fort Stewart, Ga. Courtesy photo Army Pfc. FORT STEWART, Ga. – A U.S. Army explosive ordnance disposal technician recently rescued a woman from alligator-infested waters here. Nathan Currie from the 756th Explosive Ordnance Disposal Company was fishing on the south dock of Fort Stewart's Holbrook Pond when he heard a splash from a sedan driving into the pond. The soldier dropped his fishing rod and sprang into action. Currie drove his car around the pond to where the submerged sedan was flipped over with only the driver's side tires visible above the murky water.
Dives into the pond Currie, who hails from Oklahoma City, dove into the water to see if someone was in the car. He felt a body in the back seat and came back up for air. He then swam back into the car and pulled the woman from the vehicle. The woman had been under the water about five minutes and was turning blue. Currie revived her with cardiopulmonary resuscitation and stayed with her until paramedics arrived on the scene. Army Command Sgt. Maj. Wylie Hutchison, the senior enlisted leader for the Fort Stewart-based 188th Infantry Brigade, joined Currie at the scene and took part in the rescue. While Currie was performing CPR on the woman, Hutchison jumped in the pond and checked the vehicle three more times to ensure no one else was inside.
Alligators and snakes "My Army training helped by preparing me to respond quickly and take action with courage and confidence under adverse conditions," Currie said. An avid fisherman from Norman, Oklahoma, the 28-year-old Currie was on his first fishing trip to the large pond on Fort Stewart, which is home to alligators and snakes. Currie is assigned to the Fort Stewart-based 756th EOD Company from the 63rd EOD Battalion, 52nd EOD Group, 20th CBRNE Command (Chemical, Biological, Radiological, Nuclear, Explosives). With its members serving on 19 installations in 16 states, the 20th CBRNE, with headquarters at Aberdeen Proving Ground, Maryland, is the U.S. Army's only formation that combats chemical, biological, radiological, nuclear and explosive threats. A two-year veteran, Currie volunteered to serve in the U.S. Army's life-saving explosive ordnance disposal profession. "I wanted to be an EOD tech because the job was challenging and very rewarding," Currie said.
Brave soldier According to the 20th CBRNE Command's Command Sgt. Maj. Harold E. Dunn IV, Currie's actions were not surprising for an Army EOD soldier trained to go into harm's way and dismantle explosive devices. "Pfc. Currie is a direct representation of each and every trooper in the 20th CBRNE Command," said Dunn, a native of Roanoke, Virginia. "He is part of a team that lives each moment of every day in service to others, a team of soldiers that continually prepare themselves through tough realistic training and then they execute with little or no thought regarding their own safety," Dunn added. "They drive themselves each day just a little further knowing they will, not could, be called to the front to clear the path for others to travel." Currie's actions, "although extraordinary for most, are not surprising," Dunn said. "We are all very proud of how he stepped forward when called -- without hesitation," he added. Written Sept. 10, 2014 By: Walter Ham, 20th CBRNE Command Republished and redistributed by permission of DoD. ***SOT***