Meet Your Military: Archery Helps Airman Overcome Adversity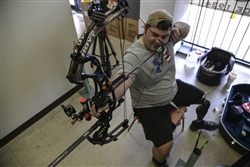 PHOTO: Air Force Staff Sgt. Seth Pena readies his compound bow to strike a target 25 meters away in San Antonio, Sept. 14, 2014.SAN ANTONIO – Air Force Staff Sgt. Seth Pena, a highly decorated tactical air control party member who is noted for calling in coordinated close support airstrikes that killed up to 70 Taliban members in one fight, sat down with a crossbow draped across his lap and a target 25 meters in front of him, reminiscing about the night that changed his life forever. Pena will compete at the 2014 Warrior Games, taking place from Sept. 28 to Oct. 4, in Colorado Springs, Colo. U.S. Air Force photo by Senior Airman Michael Ellis "I have gone on multiple deployments, defeated the Taliban; I never thought another American would do this to me," he said. One night while Pena was riding his motorcycle, a drunk driver ran a red light and crashed into him. As Pena was flung from his bike, the driver attempted to flee, but was apprehended by a service member who witnessed the incident. Pena doesn't remember the event. He suffered a traumatic brain injury, multiple broken bones and fractures, and he lost a lot of blood. He died immediately at the scene, but was resuscitated once medical personnel arrived. "I actually died twice," Pena said with a sobering tone.
"I also died in the helicopter ride to the hospital. The doctor had all my co-workers come into my hospital room, and they started screaming my name. Miraculously, my heart started pumping again." Pena was in a coma for 20 days before he regained consciousness. The doctor told the nurses and his family not to mention that his left leg was amputated. Because Pena had suffered severe brain trauma, the doctor explained, he was unsure how he would accept the news. "One day as the nurse came in to bathe me, she said that she wanted to show me something," Pena said. "She removed the wrap and I could see my leg was gone. I mean I knew my leg and ankle was hurting and in a lot of pain, but I had no clue until she showed me." Six months later, Pena was able to leave the hospital and was transferred to the 59th Medical Wing Patient Squadron at Wilford Hall Ambulatory Surgical Center on Joint Base San Antonio-Lackland, Texas. "The patient squadron has been awesome," Pena said. "I remember when the general in charge came to greet us during the grand opening. You can tell that he really cared about the wounded warriors." Pena described how coming to the patient squadron marked an incredible milestone with his treatment. "Instead of being an inpatient, you are treated as an outpatient where you get to do your own thing," he said.
While interacting with others in the patient squadron, Pena acquired a new hobby to occupy some of his free time. He started practicing archery for hours each week. "I injured my right elbow when I fell and they had to freeze it, so I started practicing with my left," Pena said. "I now shoot left-handed and am more accurate than before." Pena has become so accurate that he has been selected to compete in the 2014 Warrior Games, taking place from Sept. 28 to Oct. 4 in Colorado Springs, Colorado. He will compete with other elite athletes from the Air Force, Army, Marine Corps, Navy, Coast Guard and special operations. "The amount of stuff that had to happen in order for me to still be here -- quick-responding emergency crew, dying twice and waking out of a coma after 20 days -- my odds of surviving were as slim as winning the lottery," Pena said. "I thank God I'm still here. I got some adversity now, but I'm learning to live with it."
Written Sept. 25, 2014 By: Air Force Senior Airman Michael Ellis 59th Medical Wing
Republished and redistributed by permission of DoD. ***SOT***