Red Robin supports America's troops (Part 2)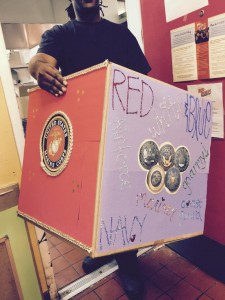 Red Robin box to support the troopsIn our last post, we told you about Nicole Jones, a Senior Quality Assurance Manager at Red Robin. She was inspired by our organization and decided she wanted to donate, so she organized a multi-store donation process to collect goods.
She collected donations from 42 stores in total. So how much did she collect? We'll let Nicole tell you:
"Our 42 restaurants were able to collect 810 lbs. of items; which was approximately $6500 worth of product," she said. "We collected a variety of items: phone cards, stamps, books, beef jerky, popcorn, etc."
Now that she's been through the process once, Nicole said she can't wait to do it again.
"We learned some good lessons during this event. We got some best practices from restaurants that received a large amount of donations," she said. "Next time I will make sure to communicate these best practices so we can get even more donated items. I will also give us a goal, because we always love a challenge."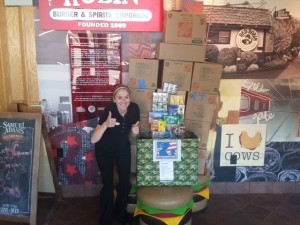 Nicole Jones poses with donations collected at a Red Robin
We are grateful to Nicole and Red Robin, and all of the people and organizations who give their time and money to help out our troops.
Want to learn more about how to help the troops? Click
here
to donate and show your support for the brave men and women soldiers serving our country. Please consider reaching out to us.
About Support Our Troops®
Support Our Troops® is America's Military Charity. We enhance the morale & well-being of the troops and their families worldwide. Our programs provide millions of dollars' worth of care goods and services including family assistance, kid's camp assistance, positive public support and more at hundreds of locations around the globe. If they're there, we're with them.® Please consider donating today!
If not you, who? If not now, when?