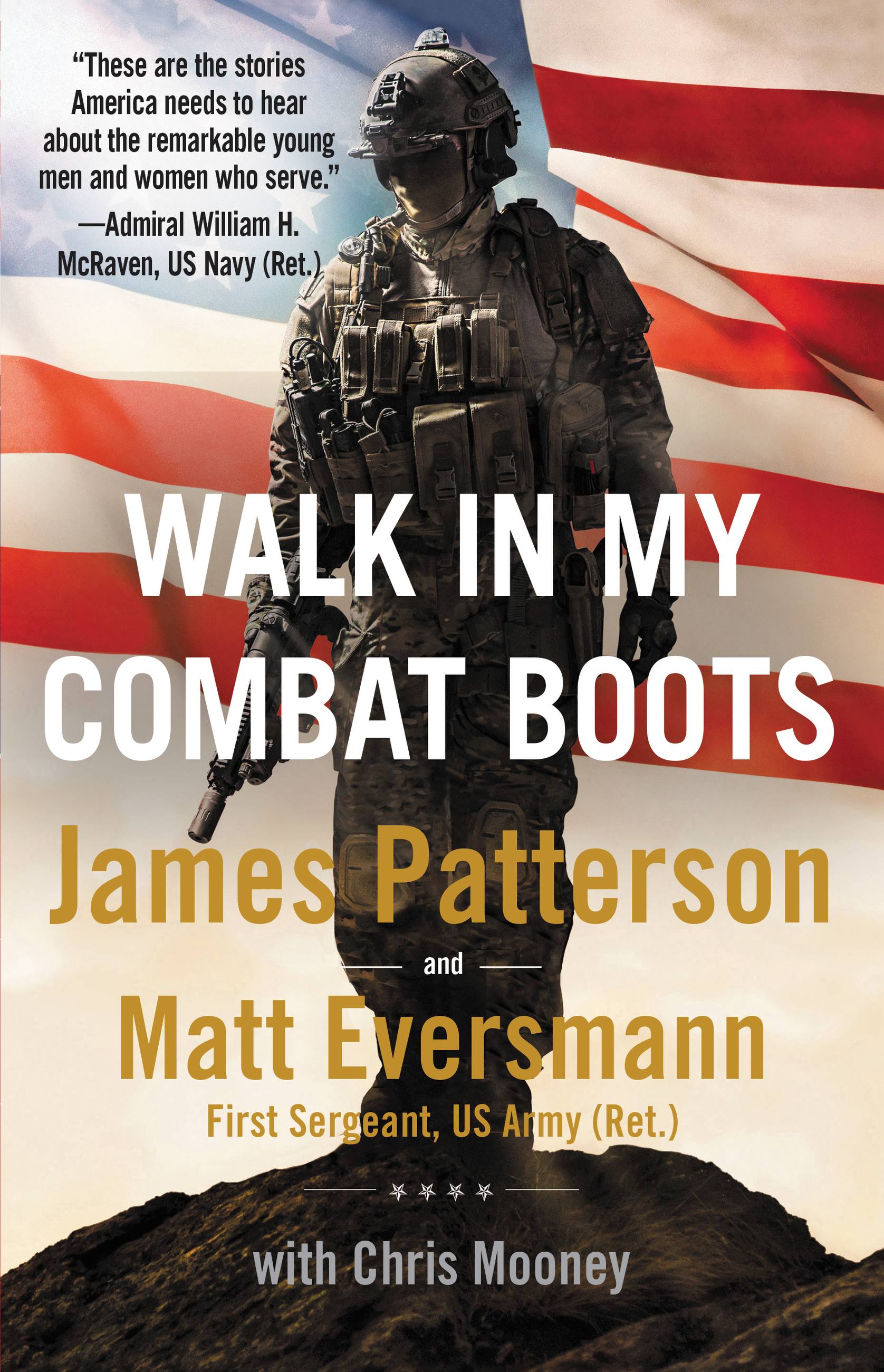 Pick up James Patterson's latest hardback book this November and we will receive a $1 donation.
Start your holiday shopping and support service men and women at the same time. For every hardback book of Walk in My Combat Boots sold during the month of November, the book's publisher – Hachette Book Group – will donate $1 to Support Our Troops. Written by #1 best-selling writer James Patterson and Ret. US Army First Sergeant Matt Eversmann, Walk in My Combat Boots is a collection of brutally honest stories crafted from hundreds of original interviews given by American men and women who fought overseas. These stories span generations from Vietnam to Iraq to Afghanistan and offer a rare, eye-opening look into what wearing the uniform and fighting for our freedom is really like. Walk in My Combat Boots gives every reader a true understanding of what 'thank you for your service' means.
---
From November 1 through November 30, 2021, anyone who purchases a hardback copy of Walk in My Combat Boots will not only receive a powerful collection of moving stories from soldiers, sailors, airmen and marines, they will also help Support Our Troops continue our mission to strengthen the morale and well-being of our current military service members and their families worldwide. This offer is good where all books are sold.
"We are delighted to have the support of James Patterson to broaden our mission to military supporters and civilians through this effort. We also thank Hachette Book Group for their dedication and vision to bring this partnership to fruition," said Martin C. Boire, president of Support Our Troops.
James Patterson: "I consider WALK IN MY COMBAT BOOTS to be one of the most important books I've ever written – the stories of the heroic men and women Matt and I write about are truly awe-inspiring and all too often overlooked. So I'm thrilled that we're able to give back to them and acknowledge their service this Veteran's Day through Support our Troops – no one is more deserving."
"WALK IN MY COMBAT BOOTS is one of the most important books James Patterson has ever written, a collection of riveting first-hand accounts that reveal what wearing the uniform, fighting in combat, losing friends and coming home is really like. After reading this book, when you thank a military member for their service, you'll know what you're thanking them for—and Hachette would like to offer its thanks by teaming up with Support Our Troops. In honor of Veterans Day, Hachette will donate $1 to Support Our Troops for every hardcover of WALK IN MY COMBAT BOOTS sold during the month of November. We thank booksellers for continuing to promote this important book, we thank Support Our Troops for all the work they do to improve the well-being of current service members and their families, and most importantly, we thank the brave troops, both active duty and veterans of the United States military."
Michael Pietsch, CEO, Hachette Book Group