A letter of thanks for the armed forces from Okinawa
July is the month that started it all and a great time to remember the armed forces, the soldiers and the sacrifice of the brave men and women, who give all on a daily basis. Please consider donating today. Quick factoid: The opening shots of the American Revolution were fired at Lexington and Concord, Massachusetts in April 1775. Along with a few other important historical events, like the assassination of Franz Ferdinand, the event is known as the "shot heard round the world,"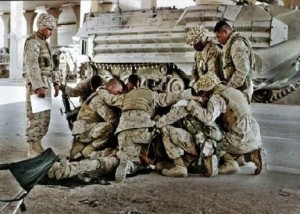 Armed Forces prayingbecause of its repercussions. A few weeks ago, we got a letter from the Weigold family, currently stationed at the Kadena Air Base in Okinawa, Japan. They wanted to give thanks for the coupons we sent them. Recently, we got another letter from Okinawa. This time it was from a woman named Viki. She writes:
Thank you so much for taking the time to coupon for us. It means so much to those of us living overseas. Your coupons reached us in Okinawa, Japan! Have a blessed day. -Viki
Stay tuned to our blog, and we'll share more letters and information as we get it. The important idea we want to get across is that it doesn't take much to help. A little time goes a long way. Want to learn more about how to help the troops? Click here to donate and show your support for the brave men and women soldiers serving our country. Please consider reaching out to us.
About Support Our Troops
Support Our Troops® is America's Military Charity. We enhance the morale & well-being of the troops and their families worldwide. Our programs provide millions of dollars' worth of care goods and services including family assistance, kid's camp assistance, positive public support and more at hundreds of locations around the globe. If they're there, we're with them®. Please consider donating today.