Wings of Victory For U.S. Army Europe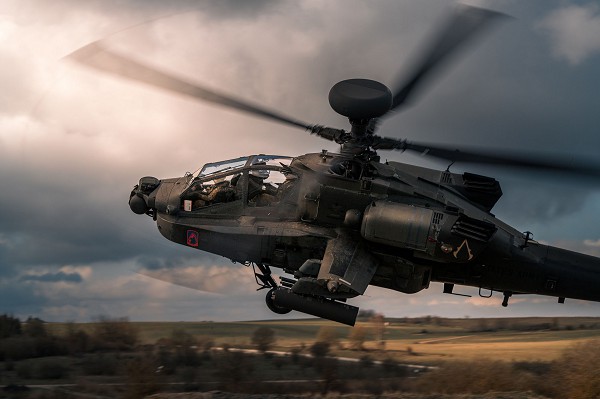 Grafenwohr Training Area, Germany. (September 7, 2022): In this photo by Major Robert Fellingham, Chief Warrant Officers Max Wannelius and Laura Chmielowski, AH-47 pilots assigned to the 12th Combat Aviation Brigade circle their Apache Longbow to re-attack targets during aerial gunnery practice at Grafenwohr Training Area. Produced by McDonnell Douglas's plant at Mesa, Arizona, the Apache was designed to be a tough survivor in combat because of its advanced target acquisition and night vision capabilities.
Katterbach, Germany. (September 7, 2022): Its symbol is a mythological creature called a griffin, a beast with the head and wings of an eagle but the body of a lion. Surrounded by flames, the griffin connotes courage, speed, and vigilance which fits with the motto of the Army's 12th Combat Aviation Brigade, "Wings of Victory".
This storied unit has patrolled the skies defending America for the past 57 years, through four wars and numerous humanitarian missions.
They are just getting started.
From its beginnings at Ft. Benning, Georgia in 1965, the 12th Aviation first served in combat in Viet Nam where they earned a Presidential Unit Citation, a Meritorious Unit Commendation, and a Valorous Unit Award for bravery in combat. The unit next saw action in Operation Desert Storm in 1990-91 and deployed to Iraq and Afghanistan as part of the war on terror. Wartime has not been the only time the 12th Aviation has responded to the call, the unit performed humanitarian missions in Kurdistan, Bosnia Herzegovina, and Kosovo to protect civilians and save lives.
Based at Katterbach, Germany, the unit consists of the 1-3 Attack Reconnaissance Battalion flying the Apache (pictured above), the 1st General Support Aviation Battalion manning Chinooks, and the 4-3 Assault Helicopter Battalion flying the UH-60 Black Hawk.
Today, the 12th Combat Aviation Brigade is the largest aviation unit for all U.S. Army Europe, and it trains pilots and crews in support of the European Command and NATO.