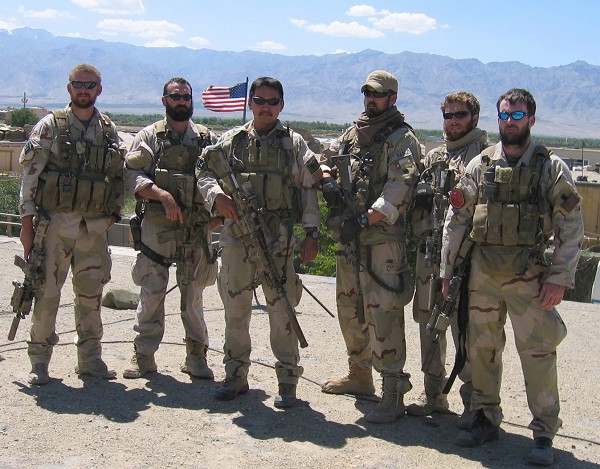 Above is an official Navy filed photo of Navy SEALs operating in Afghanistan in support of Operation Enduring Freedom. From left to right, sonar technician (surface) Petty Officer 2nd Class Matthew G. Axelson, of Cupertino, Calif.; Senior Chief information systems technician Daniel R. Healy, of Exeter, N.H.; quartermaster Petty Officer 2nd Class James Suh, of Deerfield Beach, Fla.; hospital corpsman Petty Officer 2nd Class Marcus Luttrell; machinist's mate Petty Officer 2nd Class Eric S. Patton, of Boulder City, Nev.; and Lt. Michael P. Murphy, of Patchogue, N.Y. With the exception of Luttrell, all were killed June 28, 2005, by enemy forces while supporting Operation Red Wing.

We take security to the extreme, and the only reason this photo is published showing their faces is because the military the Department of Navy has released the photo confirming it is now acceptable to do so without placing lives at risk. Loose lips sink ships and as always their faces would otherwise be obscured..

The amazing thing about heroes is, they are so ordinary. They come from all walks of life, rich and poor, big cities, and country farms, basically the fabric of American society. A very few choose to serve their country in the armed forces and fewer still reach the level of excellence of a Navy SEAL.

They volunteered to tackle the most dangerous missions, knowingly risking their lives as the tip of the spear for America's armed forces. Some make the ultimate sacrifice while trying to save their comrades. Lt. Michael P. Murphy, from Patchogue, N.Y. was one such hero.

Murphy was born May 7, 1976, in Smithtown, New York and his family moved to Patchogue on Long Island when he was very young, Murphy was good at sports, and he began sticking up for others at an early age — his family said he got into a fight at school while defending a student with disabilities.

After graduating from High School in 1994, Murphy went to Penn State University where he graduated with honors with two degrees, one in political science and one in psychology. Murphy was accepted into a few law schools, but he decided on a different path — he wanted to become a Navy SEAL. After completing this legendary training, Murphy earned his trident in July 2002, eventually deploying to Afghanistan.
On June 27, 2005, Murphy took part in Operation Red Wings, a reconnaissance mission to locate Ahmad Shah, a high-level anti-coalition militia leader in the Hindu Kush mountain range east of Asadabad. Murphy, along with three fellow SEALs: Petty Officer 2nd Class Danny Dietz, Petty Officer 2nd Class Matthew Axelson and Petty Officer 2nd Class Marcus Luttrell, inserted into a rugged, enemy controlled area high in the mountains when they came across three goat herders who they questioned and let go. It is believed the herders sympathized with the enemy and promptly reported the presence of the Americans to the Taliban.