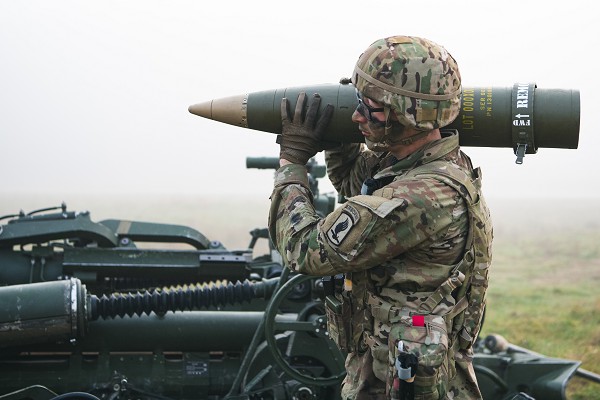 In this photo by Staff Sergeant John Yountz, a U.S. Army paratrooper assigned to 4th Battalion, 319th Field Artillery Regiment (Airborne) shoulders a round for the M777 Howitzer for an artillery capabilities fire demonstration during a leadership validation exercise at the U.S. Army Joint Multinational Readiness Center at Hohenfels, Germany. American Cannoneers provide close fire support for infantry units when lives are on the line.
Ft. Sill, Oklahoma. (July 31, 2022): These are the most chilling words a soldier can hear crackle over the radio; "We are being overrun!" A squad is pinned down with multiple wounded, unable to move as the enemy closes in. Their survival depends on the skill and bravery of U.S. Artillery Cannon Crewmembers.
For over two centuries, American artillerymen have delivered close fire support for infantry units like these saving countless lives and deciding many battles. U.S. artillery came of age in the 1830's when smaller, lighter cannon with longer range were produced, the most famous being the Model 1841 Mountain Howitzer. The term Howitzer comes the German word "Haubitze" or basket and refers to a cannon with a shortened barrel and a breach shaped like a funnel increasing accuracy and portability.
Today, Army Cannon Crewmembers (MOS 13 Bravo) are responsible for firing howitzers in support of infantry and tank units during combat. These troops load and fire howitzers, set fuses and charges on multiple munitions, and must make split second decisions, often while under fire themselves.