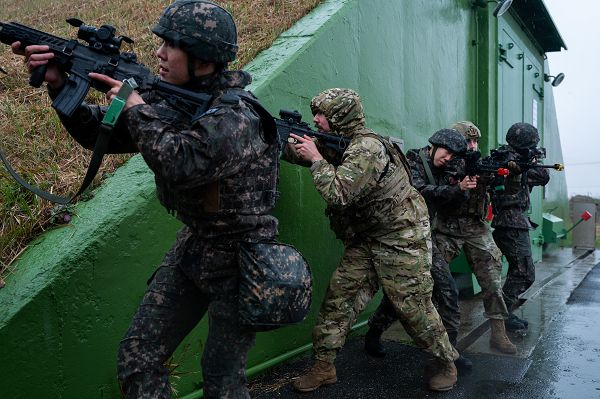 Kunsan Air Base, Republic of Korea. (December 1, 2023): True partners have each other's back. In this photo by Staff Sergeant Samuel Earick, South Korean and American Air Force military police secure their position during anti-terrorism drills held here recently. The U.S. Air Force 8th Security Forces and their opposite number, the South Korean 38th Fighter Group, defend this sprawling military facility of over 2,800 personnel and billions in vital air assets.
Kunsan Air Base is home to the 8th Fighter Wing, known as the "Wolf Pack," which is a part of the 7th Air Force based at Osan, South Korea, Kunsan is one of the last of the Air Force's "warrior bases" where members serve for one year unaccompanied by family. All troops assigned to the base live in the old-fashioned dormitory style.
Also based at Kunsan is the Army's 2nd Battalion, 1st Air Defense Artillery, which is equipped with Patriot missiles to protect the base against tactical ballistic missiles, cruise missiles and even advanced aircraft.
Located on the west coast of the Korean peninsula, Kunsan Air Base will be a major hub for follow on forces from the United States in time of war. Originally built by the Japanese as a fighter-interceptor base in 1938, Kunsan was recaptured by the U.S. Army's 3rd Battalion, 24th Infantry and became home to the U.S. Military Assistance Advisory Group at the end of World War II.
Toay's Air Force security forces go through extensive training in law enforcement and combat tactics to protect bases like these both stateside and overseas. In this exercise, the Americans joined the South Korean 38th Fighter Group police to tackle various scenarios ranging from a simulated firefight to the apprehension of opposing forces.