The military family transcends borders
Recently, we got some correspondence from the mother of a sailor deployed on the USS Jason Dunham, which at the time of the writing was in the area of the Baltic Sea. We are always happy to get messages from military family members. Here's a photo of the vessel: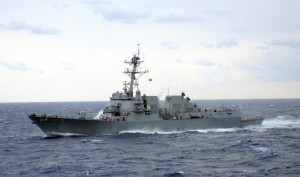 120425-N-YF306-085 ATLANTIC OCEAN (April 25, 2012) The guided-missile destroyer Jason Dunham approaches dry cargo/ammunition ship USNS Lewis and Clark (T-AKE 1) for an underway replenishment. Jason Dunham is part of Carrier Strike Group 8, which is underway conducting a composite training unit exercise (COMPTUEX) in the Atlantic Ocean. (U.S. Navy photo by Mass Communication Specialist 2nd Class Aaron Chase/Released)One of the great things about your Support Our Troops® organization, besides being able to provide a great showing of thanks to the troops, is that we get to hear back. In this particular instance, a mother named Teri --- writes us about her daughter receiving a care package on the vessel, and what it meant to her. The messages are a subtle and poignant look at what these thoughtful gifts from home can mean to the deployed military – both men and women – overseas.
Here are the messages:
"----- wife signed our division up for support our troops care packages, and we got them today. Coolest thing ever! we got like snacks. alot! and toiletries. and notes from the people! i got two letters from kids. Not gonna lie, that was super cool!"
"Like the highlight of deployment..." "My whole division is like on a high right now. i never realized how much snacks and toothpaste could make someone happy." "ANDDDD i got footpowder. PTL. my berthing mates will appreciate that." Thank you so much for what you do - I will definitely be participating in this program from now on - to see how much it means to them - my heart- on that ship right now just brings tears to my eyes!! Thank you from the bottom of my heart!!!!
It really is easy to forget about American soldiers and sailors, out of sight out of mind, as the adage goes, but look at how grateful she is for things that we take for granted every day. Many of us go through our days feeling tired and worn out from work or daily stress, and we don't realize the joy that helping others can bring. Who better to help than our nation's protectors?
Stay tuned to our blog for more posts and letters about the soldiers.
---
Want to learn more about how to help the troops? Click here to donate and show your support for the brave men and women soldiers serving our country. Please consider reaching out to us.
About Support Our Troops
Support Our Troops® is America's Military Charity. We enhance the morale & well-being of the troops and their families worldwide. Our programs provide millions of dollars' worth of care goods and services including family assistance, kid's camp assistance, positive public support and more at hundreds of locations around the globe. If they're there, we're with them®. Please consider donating today.