Letter of thanks from Armed Forces in Europe
Very few things we do give us more joy than hearing from our armed forces overseas, especially when we can provide them with help and support. Last time, we heard from the mother of a sailor deployed on the USS Jason Dunham. The mother told us that our care packages reached her daughter on the ship.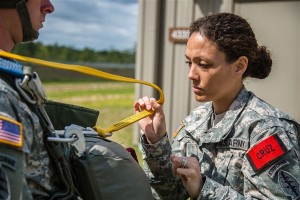 Army 1st Sgt. Sandrea Cruz, right, conducts a jumpmaster personnel inspection on a soldier, preparing him for a static-line parachute jump from an aircraft. Cruz leads more than 150 soldiers as the first sergeant for the 7th Special Forces Group's (Airborne) Sustainment and Distribution Company. U.S. Army photo by Staff Sgt. Bryan HensonToday we got a letter from a man named Francisco ---, stationed in Europe. He wanted to express not only thanks for the care package, but also his surprise at how abundant it was. This was great to hear because we strive to get our armed forces as much help as we can.
Here's his letter:
I can't say enough how much appreciation from receiving the care package there is. We were really surprised by the abundance of items. Like anywhere from snacks, especially beef jerky, and all the toiletry items that go a long way. Again thank you for all the effort and time that is put into the program you have. With much respect, Francisco ---.
Stay tuned for more letters and posts from the troops!
Want to learn more about how to help the troops? Click here to donate and show your support for the brave men and women soldiers serving our country. Please consider reaching out to us.
About Support Our Troops
Support Our Troops® is America's Military Charity. We enhance the morale & well-being of the troops and their families worldwide. Our programs provide millions of dollars' worth of care goods and services including family assistance, kid's camp assistance, positive public support and more at hundreds of locations around the globe. If they're there, we're with them®. Please consider donating today.