2nd Brigade Combat Team in Kandahar Thanks Americans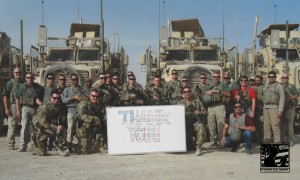 us army soldiers prepare parachute jumpKandahar, Afghanistan –
Hey Support Our Troops – this is Captain Marc —– 2nd Brigade Combat Team, 10th Mountain Division, in Kandahar, Afghanistan. I'm writing this to express sincere appreciation from all the members of the Afghanistan National Security Forces Advise and Assist Team.
The Team is comprised of soldiers from the 10th Mountain Division's Second Brigade Combat Team. The team deployed with the mission to make Afghanistan a self-reliant nation — for the safety of America. We work hand in hand with Afghan locals and service members on a daily basis, to make the Afghanistan National Security Forces ready to defend the freedoms of their citizens.
Our team has received great material goods from Support Our Troops, and the items received have really increased morale. Some of the items used daily include Under-Armor athletic apparel, soccer balls, shaving cream, and protein supplements. Of note, the soccer balls have been used for soccer practice many times a week as our team prepared for a game against the Afghanistan Uniformed Police.
The police took a victory on the soccer field, but lasting relationships were formed between us and the Afghanistan police, and these relationships have built the trust and confidence needed for mission success. Know that the effort and equipment Support Our Troops provided is appreciated by all team members, and that Support Our Troops directly aided in the national mission.
The enclosed flag was flown for you on a combat mission on an M-rap. Due to all the support you have provided, please accept this flag as a small token of appreciation for all the backing Americans have provided our service members and our team through Support Our Troops!
~~Sincerely, Captain Marc —
– 2nd Brigade Combat Team
Kandahar