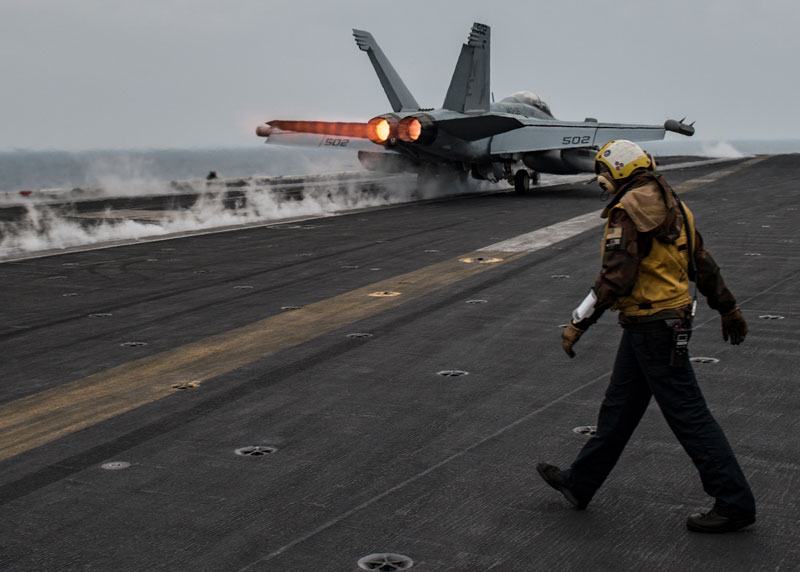 SEA OF JAPAN (March 20, 2017) Aviation Boatswain's Mate (Handling) 3rd Class Sarah Melendez observes an EA-18G Growler assigned the "Gauntlets" of Electronic Attack Squadron (VAQ) 136 take off from the aircraft carrier USS Carl Vinson (CVN 70). The ship and its carrier strike group are on a western Pacific deployment as part of the U.S. Pacific Fleet-led initiative to extend the command and control functions of U.S. 3rd Fleet. Photo by Mass Communication Specialist 3rd Class Matt Brown
International Waters, 3-10-2017: Dear Support Our Troops, My team and I are with an F-18 squadron, VFA-137 and are currently deployed aboard the aircraft carrier USS Carl Vinson. We received a care package today that absolutely made the day for 11 sailors in my shop. For the majority of those sailors this was their first deployment, and seeing their faces light up, was priceless. Your package arrived at just the right time, and truly lifted the spirits of some tired and hardworking sailors. The letters included in the package brought tears to our eyes, and are now taped to our office wall, bringing color to an otherwise drab work space. Thank you so much for all you do. Please keep up the good fight on the home front. Thank you~!
V/R, LS1(AW/SW) James -------
VFA-137 Material Control
Deployed Aboard USS Carl Vinson
About the Carl Vinson
USS Carl Vinson (CVN-70) is the third United States Navy Nimitz-class supercarrier and is named after Carl Vinson, a Congressman from Georgia, in recognition of his contributions to the US Navy. The ship was launched in 1980, undertook its maiden voyage in 1983, and underwent Refueling and Overhaul between 2005 and 2009.
Carl Vinson's callsign is "Gold Eagle". USS Carl Vinson's Motto: 'Strength from the Sea'
Besides deployments in Operation Desert Strike, Operation Iraqi Freedom, Operation Southern Watch, and Operation Enduring Freedom, the Carl Vinson was involved in a number of notable events.
Most notably, Osama bin Laden's corpse was dumped to the ocean crabs in 2011 from the deck of the Carl Vinson.