Easter in Cameroon with Able Company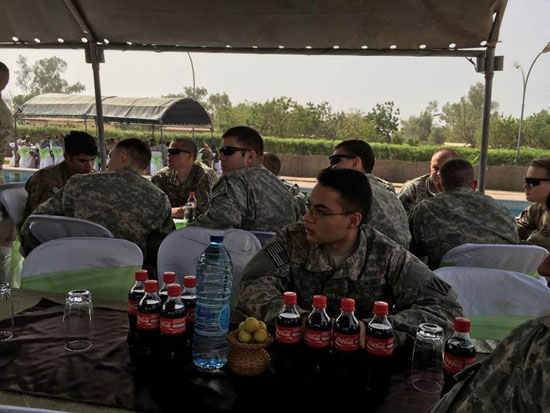 Pfc. Francisco Arias (front), and other Soldiers assigned to Company A, 1st Battalion, 30th Infantry Regiment, 2nd Infantry Brigade Combat Team, 3rd Infantry Division listen to remarks given by their leadership March 26, 2016 at Contingency Location Garoua, Cameroon. Soldiers from 2nd IBCT provide non-lethal support to their Cameroonian hosts as part of U.S. Africa Command.
(Photo by Spc. Jonathan Singletary)
April 16, 20017 - GARUOA, Cameroon - Easter has always been a special holiday where friends and family gather and enjoy one another's company. The holiday had a different meaning this year for Soldiers of Able Company, 1st Battalion, 30th Infantry Regiment, 2nd Infantry Brigade Combat Team, 3rd Infantry Division, who are currently deployed to Cameroon from their home station at Fort Stewart, Georgia.
This year the men not only shared the holiday with their fellow Soldiers, but also with their hosts and partners. The Cameroonian Air Force hosted Able Company Soldiers for a large brunch the Saturday before Easter. The event was organized by Cameroonian Air Force Col. Barthelmy T'Silla, commander of the Cameroonian Air Base hosting the Soldiers.
"This is not only a time to celebrate Easter," said T'Silla. "It is also a time to come together and celebrate the sacrifices of [our] nations."
Local restaurant owners and residents of the base brought in home-cooked regional delicacies. Soldiers filled their plates from the buffet with foods like home-made donuts, kebabs, fresh fruit and other local fare.
"It's nice to get out for a while and experience something different," said Pfc. Francisco Arias, a rifleman assigned to Able Company.
Maj. Perry White, commander of the detachment of 2nd IBCT Soldiers in Cameroon, concluded the breakfast with remarks, thanking the Cameroonian Air Force and local residents for their gracious hospitality.
"This day is about sacrifice, and so we want to thank you for the sacrifices you make, and those our partner nations continue to make as well," said White.
On Sunday, Easter Day, these Soldiers enjoyed an evening meal just like back home.
"It was a great change of pace," said Staff Sgt. Thierry Cross, a squad leader in 2nd Platoon, Co. A. "Not only was it a good meal, but it allowed everyone to sit back, relax and enjoy the company of good friends."
Soldiers from 2nd IBCT provide non-lethal support to their Cameroonian hosts as part of U.S. Africa Command. At the invitation of the Cameroonian government, U.S. troops are providing intelligence, surveillance and reconnaissance support via unmanned aerial systems to assist Cameroon in countering violent extremists.
By 1st Lt. Collin Whiteford
Republished by permission of DoD