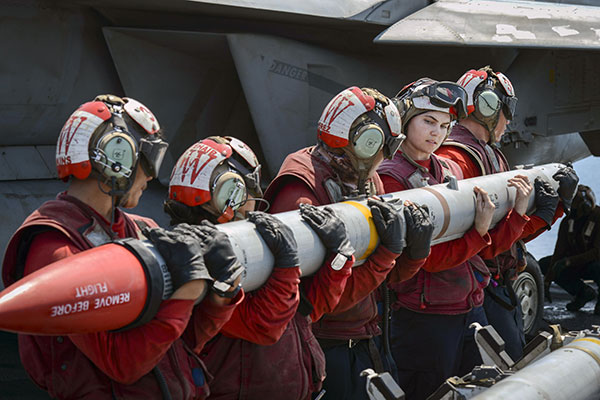 Sailors load a missile onto an F/A-18E Super Hornet aboard the USS Nimitz in the Persian Gulf, Aug. 8, 2017. The aircraft carrier is deployed in the U.S. 5th Fleet area of responsibility to support Operation Inherent Resolve.
Photo by Petty Officer 3rd Class Weston A. Mohr
Persian Gulf, September 8, 2017: I received the care package a few days ago and wanted you and your volunteers to know how excited and happy it made me. It's just so nice to hear my name during mail call, and being able to know that strangers care so much to support us out here. I loved all the snacks, letters, personal items, and other nice things that we just can't get here out on the ship. It really makes me feel like a piece of home is with me during this long deployment.
Our helicopters have been doing a lot of missions protecting our jets coming back from Syria and Iraq. We've had some small ships around our aircraft carrier that our helicopters investigate, as well as detouring the increased use in other countries using UAVs to fly toward our carrier. It's been quite a busy schedule, but we are doing well and doing our best to stay safe. The heat index on the flight deck has gotten up to 140+ degrees, but hopefully the worst of the summer heat is over.
I just wanted to say thank you again for making my heart smile. I am proud to serve in the military and am humbled by all of your volunteer's efforts and time to let us know you care so much for us and look forward to our return. God Bless you!
Kindest Regards,
LCDR Becky ------
Did you know?
The Nimitz Carrier Strike Group (CSG) is carrying out strike sorties from the Arabian Gulf in support of Operation Inherent Resolve (OIR).
The CSG is made up of Nimitz, guided-missile cruiser USS Princeton (CG-59), embarked Carrier Air Wing 11, guided-missile destroyers USS Howard (DDG-83), USS Shoup (DDG-86), USS Pinckney (DDG-91) and USS Kidd (DDG-100)
Other aircraft from CVW-11 embarked on the aircraft carrier USS Nimitz (CVN 68) also conducted the flight operations. This included the "Gray Wolves" of Electronic Attack Squadron (VAQ) 142, the "Eightballers" of Helicopter Sea Combat Squadron (HSC) 8, the "Wolfpack" of Helicopter Maritime Strike Squadron (HSM) 75, and the "Providers" of Fleet Logistics Support Squadron (VRC) 30.
Carrier strike groups demonstrate the mobility, flexibility and power projection capabilities of the U.S. Navy's globally deployed force. They also deter potential adversaries, respond to humanitarian crises, reassure partners and enhance security.
The Nimitz Strike Group's deployment to the U.S. 5th Fleet area of operations supports Operation Inherent Resolve and signals the continued commitment to defeat and destroy ISIS. In addition to anti-ISIS missions, the ship and strike group are conducting maritime security operations to reassure allies and partners, preserve freedom of navigation, and maintain the free flow of commerce.
Context – Why is this important?
According to the Middle East Institute, with the Islamic State collapsing in Iraq and losing ground in Syria, Iran and its regional proxies see the United States as the primary threat to their influence and ambitions and have stepped up efforts to oust the U.S. military from the region. Through diplomatic outreach – and at times veiled threats – Iranian leaders have been urging the Afghan and Iraqi governments to expel American forces from their countries. Tehran has also deepened its ties with the Taliban and has reportedly teamed up with Moscow to undermine U.S.-led stabilization efforts in war-torn Afghanistan. In Iraq, Iranian-supported paramilitary forces have dialed up propaganda against the United States and its allies and are pressuring the Baghdad government to expel American forces from the country. Likewise in Syria, the Islamic Revolution Guards Corps (I.R.G.C.) and its regional Shiite militia affiliates increasingly threaten the U.S. military and its allies. Moreover, the I.R.G.C. naval forces frequently harass U.S. ships in the Persian Gulf, and Iran's political and military leaders have ratchet up hostile rhetoric against U.S. military bases in the Middle East. Learn More: https://www.mei.edu/content/article/io/iran-steps-efforts-oust-us-military-middle-east