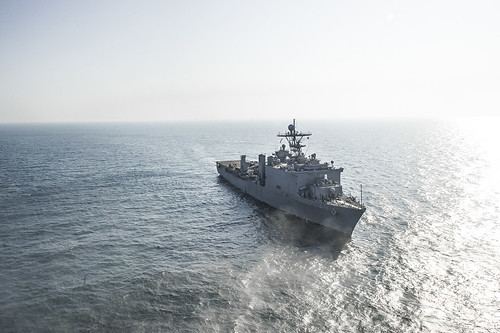 International Waters, August 5, 2019 –
Dear Americans - Thank you so very much for the kind cards, supplies, and treats we received in your care packages here aboard my Navy ship while out to see for many months! The shipment was so generous I was able to share it with multiple friends onboard. Your thoughtfulness is definitely a great reminder of the precious family, friends, and patriots back home who love and support us while we are away in Asia and the Middle East. Please extend my thanks to all the folks young and old who help make this possible!! We all can't wait to come back home and see you. God bless, LTJG Blake [ ] USN
Did you know?
The sixth ship to carry the name BOXER would be the fourth ship of the Wasp class multi-purpose amphibious assault ship (LHD). Fabrication work for LHD 4 began at Litton-Ingalls in Pascagoula, Miss. July 9, 1990. The ship's keel was authenticated April 8, 1991 and the ship was launched Aug. 13, 1993. The ship was officially christened the USS Boxer (LHD 4) Aug. 28, 1993.
After post-launch outfitting and testing, Ingalls delivered the ship to the U.S. Navy Nov. 21, 1994. Boxer began its service to the Navy as its fourth LHD Feb. 11, 1995 almost four years after its construction began.
Boxer has served in many exercises, deployments, operations and actions in her service to the US Navy. Operations of note the USS Boxer participated in were Operation Northern Watch, Operation Iraqi Freedom and Operation Iraqi Freedom II. The Boxer also participated in humanitarian missions and an international anti-piracy task force where, as the flagship of Combined Task Force 151, USS Boxer played a key role in the rescue of the captain of U.S. flagged container ship MV Maersk Alabama who was held hostage by Somali pirates.