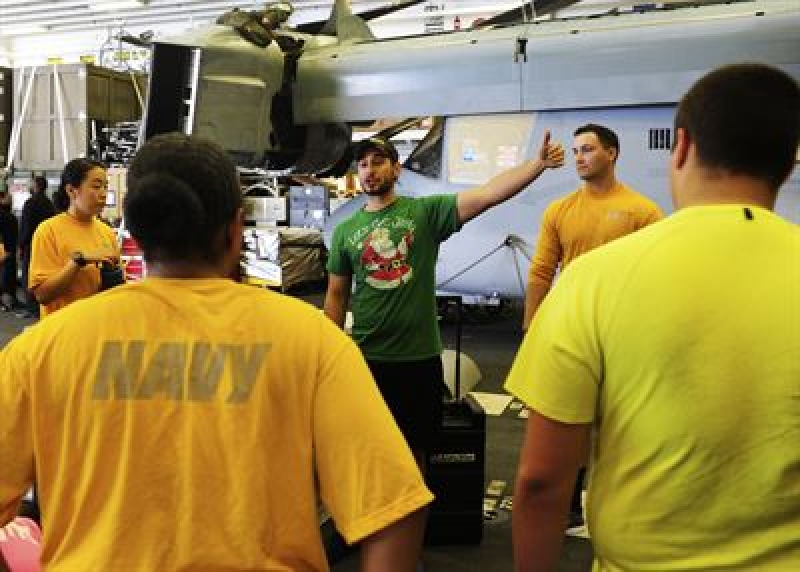 Rosalio Nieto, center, a civilian fitness specialist for Navy Morale, Welfare and Recreation, leads a fitness enhancement program class in the hangar bay aboard the amphibious assault ship USS Boxer, March 1, 2016. Navy photo by Petty Officer 2nd Class Jose JaenGULF OF ADEN, May 16, 2016 — The civilian fitness specialist, or "fit boss," aboard the Navy's amphibious assault ship USS Boxer helps sailors and Marines reach new fitness milestones by conducting fitness classes tailored toward promoting a health-conscious lifestyle.
Rosalio Nieto offers a fitness enhancement program for sailors who need help meeting body composition assessment and physical fitness assessment standards. He also offers five different fitness classes throughout the week for anyone interested in physical training in small group settings.
A Healthy, Fit Crew
"My purpose aboard Boxer is to provide a healthy fitness environment for all the sailors and Marines," Nieto said. "I want them to have a healthy lifestyle so that they're safe on the job and don't promote injuries, and they're able to do their job well and efficiently. Outside of the workplace, if I can increase their healthy lifestyles, they'll be healthier, happier people overall."
Beyond group physical training sessions, the fit boss offers individual personal training programs that service members can adapt to their gym workouts and 28 superhero workouts that sailors and Marines can do in a group or solo.
"I started off a little bit on the heavier side -- that's the reason why I'm on [a fitness enhancement program]," said Navy Seaman Kristoffer Caberto. "I just hit FEP seriously and have been going consistently as much as I can. I'm starting to see results, people are telling me, and I'm starting to feel better about myself."
Staying Fit Pays Dividends
Nieto explained how staying healthy and fit contributes to a long, active life.
"I have always been involved with sports or activities with my friends and family," he said. "After college, I worked with clinical fitness, which assists individuals after they have surgery or are post-stroke. It really became apparent to me that if you didn't start out with a base of health and fitness as you get older, it would really be more difficult for you to stay and be healthy after these large setbacks in life." Crew members are discovering additional benefits to staying healthy and physically fit.
"Working out, in general, is a stress-reliever; especially when you've had a very long day, depending on what your [job] is," said Marine Corps Pfc. Pedro Martinez. "There have been so many days that I've been really stressed. Going out there and giving it all that I can -- I truly believe that it is a stress-reliever, a big one. I'm a happier person, because I go [to high intensity body weight circuits] every Monday or Friday and it helps me out mentally and physically."
One of Nieto's motivations to guide Boxer crew members in a healthier direction is connecting through a focus on fitness.
"For me, it's the personal connection to each sailor and Marine," Nieto said. "Everyone has a life, everyone has a story, and when they come to me and need assistance to either keep a job or look better for a loved one back home, I really appreciate when they come back to me and say, 'Hey, fit boss, without you I wouldn't be able to do this.'"
Boxer is the flagship for the Boxer Amphibious Ready Group and, with the embarked 13th Marine Expeditionary Unit, is deployed in support of maritime security operations and theater security cooperation efforts in the U.S. 5th Fleet area of operations.
Written By Navy Petty Officer 2nd Class Brian P. Caracci, USS Boxer. Republished and redistributed by permission of DoD.