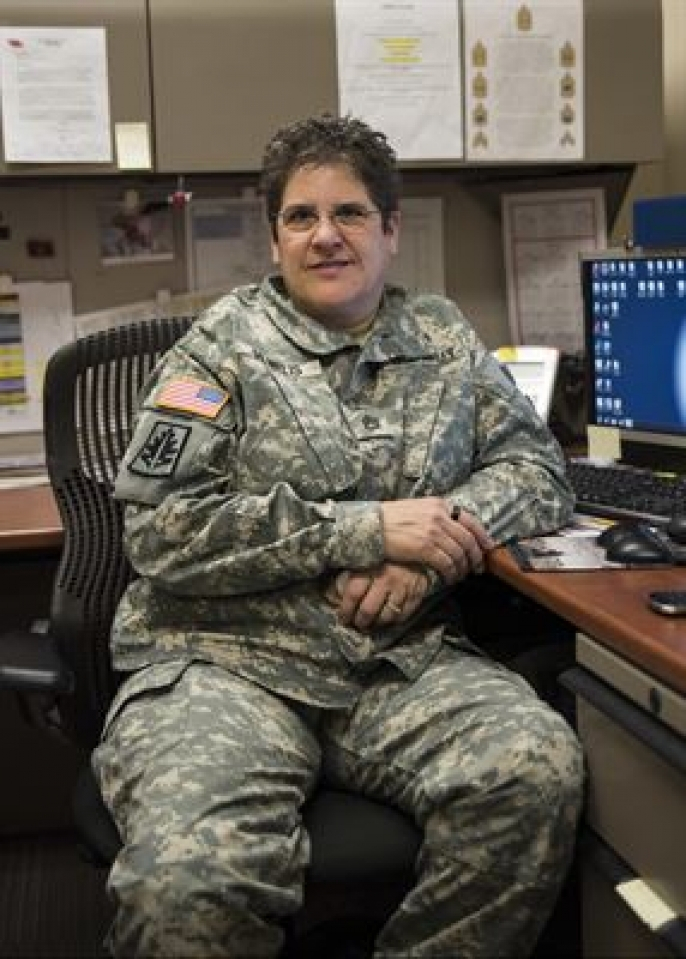 Army Staff Sgt. Loriann DeMelis, an inpatient squad leader at Naval Support Activity Bethesda, Md., finds inspiration in her work with wounded service members. Navy photo by Seaman William PhillipsNAVAL SUPPORT ACTIVITY BETHESDA, Md., May 18, 2016 — A soldier going through the Warrior Transition Brigade asked Army Staff Sgt. Loriann DeMelis, an inpatient squad leader here, if she had done her pull-ups.
"No, once you start doing them I'll start doing them," DeMelis said. The soldier rolled his wheelchair into DeMelis' doorway, raised himself up to the pull-up bar that hung in her doorway, put his prosthetic arm and then his other arm on the bar and started doing pull-ups right out of his wheelchair.
"It's amazing how resilient these service members are," she said. "It motivated me to help these service members as much as I can." Like many who enlist in the military, DeMelis was not sure about what she wanted to do for a living after high school. "After high school I was walking around aimlessly," she said. "I was working, but I wasn't sure what to do. So one day I went to talk to an Army recruiter. It sounded like something I could see myself doing, so I decided to enlist."
Deployment
DeMelis enlisted as a military police officer in the Connecticut National Guard in 1984 and deployed with the District of Columbia Army National Guard's 275th Military Police Company from January 1991 to May 1991 in support of Operation Desert Storm and Desert Shield. After returning from deployment she decided to separate from the military in 1992. "I got out after Desert Storm because I went through a lot of emotions," DeMelis said. "It was my first deployment; I was young and scared, and thought 'I don't ever want to do this again.' I got out in fear of getting deployed again."
For the next 14 years, she worked odd jobs with no upward mobility or long-term benefits. "Again I came to a point in my life where I changed careers from carpentry to teaching golf. Even though it was fun, there was no future or retirement," DeMelis said. After seeing the United States' response to 9/11 and the situation in Iraq, she decided to enlist again. "I came back in 2006 because of everything that was going on in Iraq and Afghanistan. I just felt at that time in my life that could help," she said. "I wanted to go fight for my country."
DeMelis deployed in 2007 in support of Operation Iraqi Freedom. This second deployment shaped her future. "I lost my squad leader two weeks into a deployment in Iraq, which was pretty devastating," she said. "We had a few other injuries throughout the deployment."
Serving Others
As a result of her experiences, DeMelis wanted to serve in a more permanent capacity and have a larger impact, so she found a way to volunteer and serve on active duty as a squad leader supporting the WTB. "My lieutenant was shot in the neck by a sniper, and he was here at Walter Reed for years," she said. "I think that's what drew me to the WTB here. It was my lieutenant being injured that made me want to come here." For DeMelis, serving as a squad leader at the WTB has been both rewarding and humbling.
"Words can't describe what it is like serving as a squad leader here," she said. "It is extremely rewarding seeing these service members coming back from down range; to be able to be there for them and their families, and to see them going from barely being alive in the hospital, to living a normal life. To see that day in and day out is a humbling experience." For the first few years in her demanding role as squad leader, it was hard for DeMelis to keep control of her emotions. "There are times where you lose [service members] and it gets emotional," she said.
"The first couple of years were very stressful and emotional and it was hard to keep my feelings in check. There were times that I had to shut my door and cry. When it got really bad there were times that I had to reach out to behavioral health." Recognizing the positive impact it had on her ability to cope, DeMelis continues to utilize behavioral health. "I grew up keeping my emotions and feelings inside so behavioral health allows me to let out what I have been bottling up," she said. "It was great once I learned that I could see someone and let it all out." Sometimes, DeMelis said, she finds emotions she wasn't expecting to find.
"When I go, I usually end up really opening up and finding stuff that I didn't really know that was building up inside," she said. "You build up anxiety inside of you and don't even know it until you go see somebody."
Seeking Help Isn't Weakness
DeMelis said that if she could talk to a service member who is struggling with the decision to get help, she would tell them her story. "I used to think that if you went and saw behavioral health your career's done and you are put in a category by yourself," she said. "I went through that [deciding to get help] and I would share my story with them. I would try to help them understand that it is OK to get help."
DeMelis said she draws motivation from the warriors she works with on a daily basis. "For me it is easy to stay motivated," she said. "Seeing what these service members go through and [how] they come out on top, it motivates me to serve more. I used to say I can't wait until my 20 years are up, but now I want to stick it out past my 20 years. I want to serve as long as I can."
Written May 18, 2016. Republished and redistributed by permission of DoD.