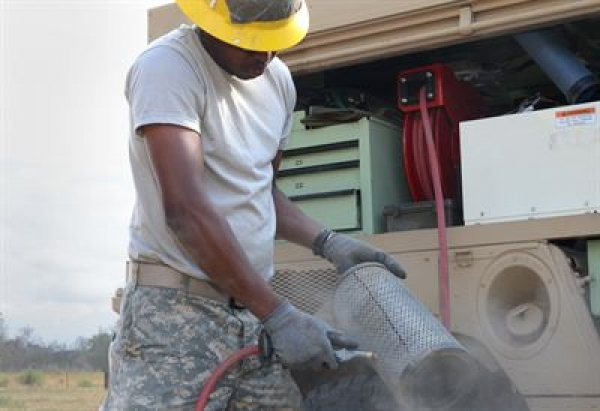 Army Pvt. Rhoen Barnes, a wheeled-vehicle mechanic attached to the Army Reserve's 672nd Engineer Company, uses compressed air to clean an air filter during a construction project in the Kaweah Oaks Preserve at Exeter, Calif., May 24, 2016. Army photo by Sgt. Alfonso Corral "It's different. [The] Jamaican army helps the local police, and they salute and march a little differently, but the training is almost the same," Barnes said of his transition from the Jamaican army to U.S. Army. "I would get in trouble with the drill sergeants in basic training, because I would march or salute the Jamaican way."

Innovative Readiness Training

Barnes was attached to the 672nd Engineer Company to assist and train with the construction of a restroom at Kaweah Oaks Preserve for the Sequoia Riverlands Trust. The construction was part of the Innovative Readiness Training program, which links up Army Reserve units with qualified civilian projects.

Barnes said he helped set up the fence around the perimeter and pour cement on the concrete blocks of the restroom they're constructing. He also received hands-on training moving blocks with a skid-steer loader.

"I think he's doing a really good job. I don't know how the Jamaican army works, but he's out there doing skid-steer training. He had never done it before," said Army Spc. Alexa Thompson, who also is conducting annual training with the 672nd Engineer Company. "The skid-steer kind of looks like a tractor. We all had a chance to practice driving it."

Barnes said he lives with his wife and two stepdaughters in Vallejo, California. He also has a son and a daughter in Jamaica, and they're coming to the United States this month, he added.

"My kids are happy I joined the Army," he said. "My son, he wants to be in the Army. My wife at first didn't like the idea, but then she said OK."

In addition to helping with the construction work, Barnes also has been doing his military occupation as a mechanic.

"I drive the contact truck. It's this," Barnes said pointing at the Humvee in front of him. "It has a lot of tools that I use to help service the other trucks like the skid-steer."

He joined the U.S. Army just because he likes the Army, Barnes said, adding that he wouldn't mind coming back to help with the construction of other facilities for Sequoia Riverlands Trust.
Written June 06, 2016 By Army Sgt. Alfonso Corral, 318th Press Camp Headquarters. Republished and redistributed by permission of DoD.