GREAT FALLS, Mont., July 24, 2017 — The Montana Air National Guard's 219th Rapid Engineer Deployable Heavy Operational Repair Squadron Engineer senior enlisted leader, Air Force Chief Master Sgt. Brian Furr, and his son, Airman 1st Class Austin Furr, deployed together the first time in June.
The father-son duo serve together as members of the Montana Air National Guard's 219th RHS, which deployed to Slovenia to do construction work in preparation for exercise Immediate Response, scheduled to take place later this year.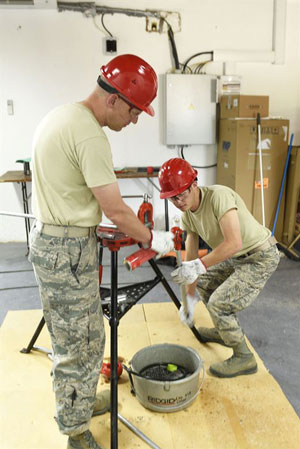 Air Force Airman 1st Class Austin Furr and his father, Chief Master Sgt. Brian Furr, manually thread pipe while preparing for exercise Immediate Response in Postonja, Slovenia, June 14, 2017. This was Austin's first deployment. The Furrs are assigned to the Montana Air National Guard's 219th Rapid Engineer Deployable Heavy Operational Repair Squadron Engineer. Montana Air National Guard photo by Staff Sgt. Lindsey Soulsby For Austin, a water and fuel system management apprentice with the 219th RHS, this was his first deployment with the heavy construction specialists. However, deployments have been a normal occurrence for his father.
"He's been gone from two weeks to nine months," Austin said.
While deployments were the norm, the difference in rank is a challenge.
"It's hard to balance that personal and professional relationship," Brian said. "I try to get out and meet with all of the airmen. I sat at lunch with them and asked them about what are they doing on this trip and try not to give [Austin] any more attention than the others."
While the chief tries to treat his son like any other airman, Austin said he notices a difference.
"It's different for me," he said. "It's always been different for me. I feel people expect more of me because of who my dad is, and I feel they look up to me -- they're always asking me questions."
Father, Mentor
Austin and Brian know that difference in rank can be tricky.
"I think a lot of the younger folks get a little bit intimidated having senior members watch what they're doing, but … we're trying to get on their level and work with them and show them we're just another one of them," Brian said.
There are benefits of having a chief as a father to prepare for a deployment, Austin said.
"I had a little bit of extra guidance," he said. "I was a little more prepared than some of the other guys because of my dad's experience. For example, I brought an electrical strip because I had just one plug-in. He said bring an electrical strip -- that way I can have extra plug-ins."
It was Austin's first time packing for a deployment and the first Father's Day he spent without his sisters and mother.
"Usually when dad's gone for a holiday, we do it again back home. Being there with him when the rest of my family didn't get to be there was special. I've never had a Father's Day with just my dad."
The Furrs celebrated Father's Day at Lake Bled in the foothills of the Julian Alps. The chief's birthday also fell within the deployment period.
While there was time for play, the 219th RHS was there to complete a mission. Austin switched copper pipes to galvanized pipes to meet the code in a bathroom of barn that dates back to 1581. At one point it served as a barn for Lipizzaner horses.
"We talk about work and I show him pictures of what I do at work. He's never seen me in action," Austin said.