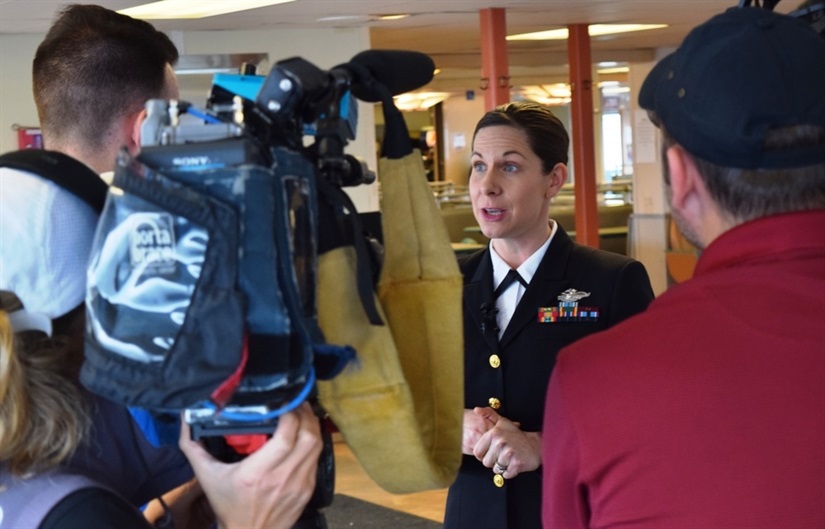 Navy Lt. Cmdr. Erika Schilling, a nurse midwife at Naval Hospital Bremerton, Wash., is interviewed by radio and television reporters in Seattle, Jan. 18, 2018. Shilling was recognized by Washington State Ferries with the Life Ring Award certificate for her life saving efforts on Dec. 2, 2017, when she saved a male passenger's life by administering emergency cardiopulmonary resuscitation for 14 minutes on the Kingston-Edmunds ferry. Photo by Douglas H Stutz
BREMERTON, Wash., Jan. 30, 2018 — By Douglas H. Stutz, Naval Hospital Bremerton
Navy midwifes bring new life into the world. Occasionally, they also save lives.
Navy Lt. Cmdr. Erika Schilling, a military nurse midwife at Naval Hospital Bremerton here, recently used her medical skills to pull back a man from the brink of death on a local area ferry trip.
Schilling was traveling on the Washington State Ferry Kingston-Edmunds route when she overheard another passenger frantically comment that immediate medical attention was needed. A man had slumped over and appeared to be not breathing.
Taking Command
Schilling took command of the situation and provided emergency cardiopulmonary resuscitation for 14 minutes to save the man's life.
Washington State Ferries awarded Schilling with the Life Ring Award certificate in recognition of her life saving efforts on Dec. 2, 2017.
The Life Ring Award is traditionally presented to Washington State Ferry employees, but Washington State Department of Transportation and Washington State Ferries leadership determined that Schilling also deserved such recognition. The award was established to recognize individuals who respond to life-and-death emergencies and perform rescues.
"We are honored to present this in recognition of her heroic, lifesaving effort. In this case, it was very phenomenal," said Doug Stough, Washington State Ferry interim port captain.
Experienced Nurse
Schilling credits her Navy training -- including 21 years of combined Navy Nurse Corps and hospital corpsman experience with Fleet Marine Force qualification experience -- for her immediate response to the emergency.
"I just happened to be there and heard that help was needed. I heard her on the phone saying, 'This is an emergency.' My ears went up," said Schilling, who had just spent that fateful day at the Heritage Museum in Everett with her two sons, Kevin, 7, and Conner, 5, before boarding the ferry for the return trip home.
The man's heart had stopped. Schilling maneuvered him from seat to floor, instructed another passenger to alert the ferry's crew, who showed quickly at the scene with an Automated External Defibrillator.
Schilling then started performing CPR, aided for part of that time by another person with Basic Life Support (CPR and AED) skills.
'I Was Sweating Afterwards'
"We did two minutes on, two minutes off. It was tiring. I was sweating afterwards. My arms and upper body felt like I'd been through one of the hardest workouts I'd ever done," Schilling said.
MD Solutions International also presented Schilling with their Outstanding Responder (to) Sudden Cardiac Arrest certificate, in recognition for her awareness, courage and compassion in response to a victim of cardiac arrest.
"I respond to emergencies. It's what I do. I was able to be the first responder there," Schilling said.
Once the ferry docked at Kingston, an emergency medical team came aboard to transport the man to Harrison Medical Center here. Yet, despite handing her patient off, Schilling determined that her efforts were not over. The stricken man and his wife were from Spokane and not familiar with the area. Schilling took it upon herself to lead the wife from the ferry to the hospital.
"All that way there, all during the 45-minute drive, it was stressful. Did I do enough? Was he going to make it," Schilling said.
The man did survive and is currently recovering at his home in Spokane. Schilling said she spoke to him recently to see how he was doing.