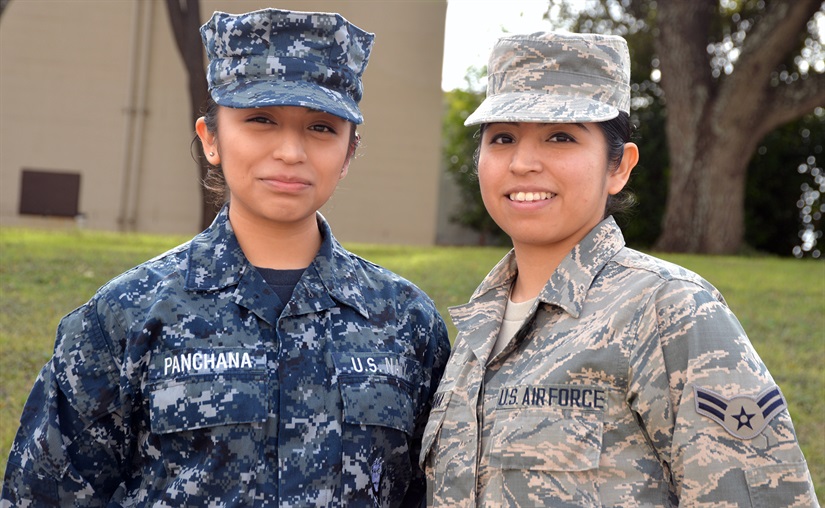 Sisters and service members, Navy Seaman Michelle Panchana, left, and Air Force Airman 1st Class Gisella Panchana are photographed as students together at the Medical Education and Training Campus at Joint Base San Antonio-Fort Sam Houston, Texas, Feb. 9, 2018. They attended school at the base from August 2017 to January 2018. Gisella graduated from the METC Radiology Program Jan. 30, while Michelle is scheduled to complete the METC Pharmacy Program in April.
Photo by David DeKunder
JOINT BASE SAN ANTONIO-FORT SAM HOUSTON, Texas, Feb. 12, 2018 —
When Air Force Airman 1st Class Gisella Panchana graduates from the Medical Education and Training Campus here, Jan. 30.
The graduation will start the next phase of Panchana's service in the Air Force, continuing her training as a radiology technician at Travis Air Force Base, California.
Even though Panchana, 26, is excited about continuing her military career, her graduation means she will no longer be able to be around her younger sister, Navy Seaman Michelle Panchana, 21, a Navy hospitalman who is also a student at METC.
While the two sisters will be separated from each other, Gisella said she'll keep in touch with Michelle.
"It's another chapter in my life," Gisella said. "Even though I won't see her as much, I can still talk to her on the phone. It will definitely be a different experience without her."
Learning Together
The two sisters appreciated the time they were students together at METC for six months, from August 2017 to January 2018. Michelle was the first sister to arrive at METC in June 2017, beginning her classes in the pharmacy program. Two months later, Gisella arrived at the campus to start her training in the METC radiology program.
Michelle found out that her older sister would be joining her at METC during a phone call with Gisella, who was finishing up basic training at Joint Base San Antonio-Lackland, Texas.
"I was pretty excited," Michelle said. "When she told me, I couldn't believe it. I didn't think it would happen at all."
Even though they lived in separate dorms, being on the same campus gave the sisters the opportunity to visit, whether it was during class breaks, lunch or dinner, and talk about things that were going on in their lives, including their classes.
"I usually see her at least once a day during break time," Michelle said. "If not, we usually hang out after school and we get lunch or dinner together. We just talk basically about everything. We're sisters, there's really no limits to our conversations."
Gisella said her younger sister was able to provide emotional support for her when she needed it.
"It's been a relief not being alone, just having a family member close by and talk to whenever you want to," Gisella said. "To actually have her here has been really great."
Michelle said being with her older sister allowed her to de-stress from classes and go out on weekends, including seeing the sights in San Antonio, shopping and eating out.
The sisters, who were born in the Bronx, New York City, and grew up in New Jersey, were raised in a close-knit family of four children by their parents, Rita and Jorge Panchana, who came from Ecuador.
"Having her here at METC has just brought us even closer together," Michelle said.
Strong Bond
Since they are close, the sisters seek advice from each other at times.
"I usually tell her everything that goes on," Michelle said. "If I have any problems, I will go to her and she does the same thing with me, as well."
The two sisters and their younger brother, George, are the first members in their family to join the military. Their younger brother joined the Navy in early January.
Before each of the sisters joined the military, they discussed the idea with each other.
Gisella was the first one to explore the option of joining the service after going to college and earning a degree in graphic design.
"I actually researched all the military branches and chose what I thought was the best for me," she said. "I just wanted something new in life. I kind of felt stuck at a point in my life and I thought, 'Why not?' They have great opportunities, so I decided to join."
Michelle said her older sister inspired her to join the military.
"She started talking about joining the military way before I even thought about joining it as well," she said. "We talked about it amongst ourselves for quite a time."
Michelle decided to enlist in the Navy after going to nursing school for two semesters. She said the Navy offers more medical programs and opportunities for her. Michelle is training to become a pharmacy technician.
The sisters look up to each other.
"I definitely look up to her because she is a character," said Gisella about her younger sister. "She puts herself out there and that's what I've always wanted to do. She's not afraid of anything."
"I've learned how strong she can be whenever she is in a tough situation," Michelle said about her older sister. "Seeing her overcome obstacles in her life, it has made me want to be a stronger person, as well."
Michelle is set to graduate from the METC pharmacy program in April. She said it will be hard to see her older sister leave and not have her around at METC.
"I'm very sad she is going to leave first because we are just so use to having each other here," Michelle said. "It's going to be a little different now."