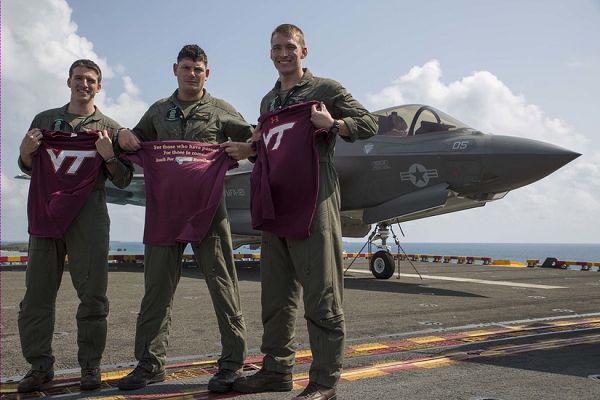 Left to right: Marine Corps aviators Capt. Evan Slusser, Maj. John Stuart and Capt. Andrew Thornberg pose for a photo aboard the amphibious assault ship USS Wasp in the Pacific Ocean, March 15, 2018. The trio are F-35B Lightning II pilots with Marine Fighter Attack Squadron 121, embarked aboard the USS Wasp. All three Marines graduated from Virginia Polytechnic Institute and State University, also known as Virginia Tech, in Blacksburg, Va.
photo by Cpl. Bernadette Wildes
PACIFIC OCEAN -- April 23, 2018 - by Cpl. Bernadette Wildes
Three Virginia Tech alumni are now serving as Marine Corps aviators.
Marine Corps Maj. John Stuart, Capt. Evan Slusser and Capt. Andrew Thornberg fly the F-35B Lightning II out of Iwakuni, Japan, with Marine Fighter Attack Squadron 121.
Flying with the 31st Marine Expeditionary Unit aboard the amphibious assault ship USS Wasp during Spring Patrol 2018, all three participated in this year's historic first operational deployment of the F-35B with a MEU.
The 31st MEU, based out of Okinawa, Japan, is a forward-deployed, flexible air-ground-logistics team capable of accomplishing a wide range of military operations in support of U.S. Pacific Command.
"The fact that three of us end up being pilots in the Marine Corps who end up flying the F-35 [and] end up in the same squadron in Japan -- the chances are pretty wild," said Slusser, from Prince George, Virginia.
Virginia Polytechnic Institute and State University, also known as Virginia Tech, is located in Blacksburg, Virginia. The school's maroon and orange are proudly worn and never forgotten by the Hokies of Virginia Tech.
Remembering Virginia Tech
"It's just beautiful out there," Slusser said. "It's in the southwest corner of Virginia in the mountains. You get all four seasons. You get snow, you get summer. You get the best fall of anywhere on the planet, and the springtime's not bad either. The school and scenery are beautiful."
Slusser played soccer and majored in international studies with a concentration in global politics.
Thornberg said it's unique to have the Virginia Tech community all the way on the other side of the world in Japan. They even get together to watch the games on TV.
"When I think of Virginia Tech and Blacksburg, I think of home," said Thornberg, from Fairfax, Virginia. "I'm very grateful to the Virginia Tech community. It has shaped my life and made me who I am today. I will always be a Hokie at heart."
Thornberg, who graduated with a degree in international studies, played lacrosse and was a part of the Virginia Tech Rescue Squad, an all-volunteer, student-run organization that provides emergency medical services to the university community. As a member of the VTRS, Thornberg was a first-responder during the tragic April 16, 2007, school shooting that claimed the lives of 32 Virginia Tech students.
Stuart was a member of the Student Engineer's Council and the Virginia Tech Motocross Club. He has a degree in industrial systems engineering.
"Virginia Tech didn't just feel like home; Virginia Tech was home to me," said Stuart, from Marshall, Virginia. "My best friends in life, even to this day, went to Virginia Tech."
Slusser agreed.
"From my first day to the last [at Virginia Tech], it was one of the best times of my life," Slusser said. "The people there are amazing, the place itself is amazing. I would love to retire and end up living somewhere near that school."