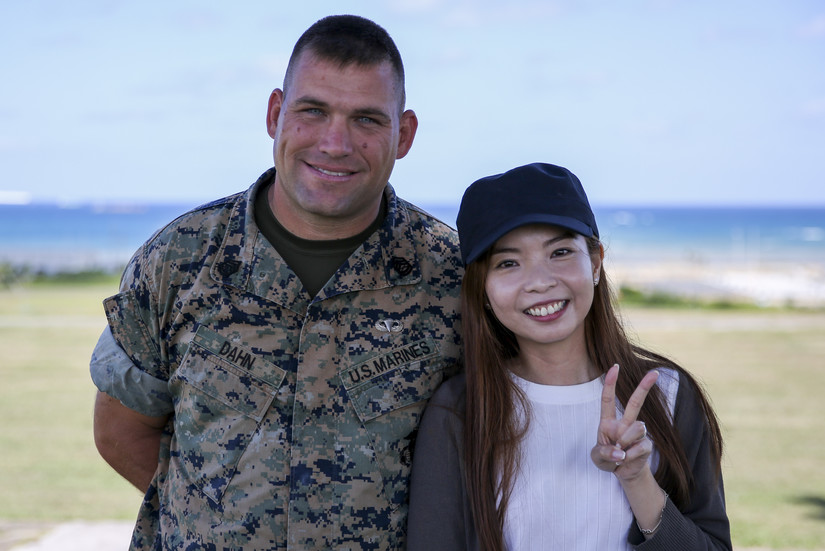 Marine Corps Gunnery Sgt. Scott Michael Dahn and Ching-Yi Sze pose for a photo in Okinawa, Japan, May 24, 2018. Dahn rescued Ching-Yi while she was scuba diving at Okinawa's Maeda Point, May 20, 2018. Photo by Cpl. Andrew Neumann
OKINAWA, Japan -- By Cpl. Andrew Neumann
An expert Marine Corps diver came to the rescue of a Hong Kong woman who was scuba diving on her honeymoon here, May 20. Marine Corps Gunnery Sgt. Scott Dahn was practicing rescue diving at Maeda Point when he saw the woman, Ching-Yi Sze, start to panic.
Dahn, who hails from Herron, Michigan, recalls the incident.
"The female ripped her mask off and looked like she might have been panicking, but I thought maybe they were doing some training, so I kept an eye on it," said Dahn, the training chief for 3rd Maintenance Battalion, 3rd Marine Logistics Group, III Marine Expeditionary Force. "They put her mask back on, and then I saw her rip out her regulator. That concerned me."
The woman's companions replaced her regulator, but then, "she ripped off both mask and regulator and that's when I hurried up and swam over there," Dahn said.
"I was probably about 30 feet from them," he continued. "Once I got over there, I put the regulator back in her mouth, and they already had put the mask back on. She spit the regulator out and closed her mouth."
Dahn said he put the regulator back into the woman's mouth and held it there.
"I grabbed her arm," he said, "and I signaled to the dive leader that we needed to go up."
Dahn said the group ascended to the surface slowly so no one would get decompression sickness.
'She Was Pale, Her Lips Were Blue'
"Once we reached the surface, I grabbed her low pressure inflator hose and put some air in her buoyancy control device so she would float," he said. "She was pale, her lips were blue, her eyes were rolled in the back of her head. She was foaming from the mouth. And, she was unresponsive."
The stricken woman was barely breathing, Dahn said.
"So, I proceeded to tow her into shore." he said. "At that point, I thought she might die."
After getting Ching-Yi ashore, Dahn said he carried her on his shoulder up a few flights of stairs. He laid her on her side to prevent choking and removed her gear to calm her. He stayed next to her while his wife, April, contacted emergency services. Meanwhile, he helped the distressed diver breathe through an oxygen tank.
"She was getting better, which was a good feeling, because when we first took her out of the water we were not sure if she was going to make it," Dahn said.
Dahn said he stayed by Ching-Yi's side until the paramedics came. After a short hospital stay, she made a full recovery. A couple days later, she called Dahn to say she wanted to return to Okinawa to thank him.
"I don't know if my husband could find another girl like me," Ching-Yi said jokingly. "I can't express how grateful I am for Scott (Dahn)."
"I was not surprised at all of [Dahn's] actions," said Marine Corps Capt. Taylor Davis, the executive officer for 3rd Maintenance Battalion. "He is a true professional. Dahn is a thoughtful and proactive Marine. His consistent desire to develop his Marines had already earned him the respect of his leaders."
Dahn said he heard his unit plans to give him an award. Yet, he said he already received the lasting reward of a new friend.