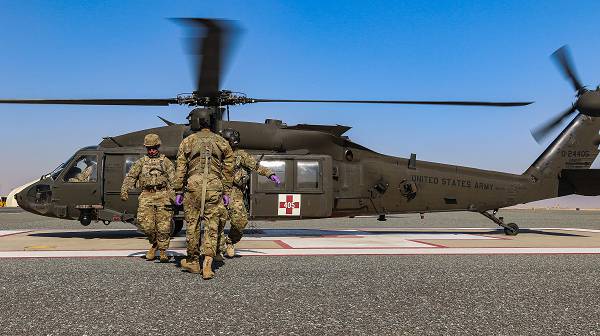 U.S. Army Soldiers assigned to the 2-211th General Support Aviation Battalion, Minnesota Army National Guard, and the 155th Armored Brigade Combat Team, Mississippi Army National Guard, pull a patient from a UH-60L Black Hawk helicopter during an aeromedical evacuation rehearsal at Camp Buehring, Kuwait, Dec. 11, 2018. Photo by Sgt. Emily Finn
CAMP BUEHRING, Kuwait – Looking out to a vast horizon, where the brown, sandy dunes of Kuwait's desert meet the blue sky, appears a UH-60L Black Hawk helicopter with a red cross on the door. The red cross is an international sign of medical assistance and a sign of hope for those in need.
Flying through the skies, C Company, 2-211th General Support Aviation Battalion, Minnesota Army National Guard, currently assigned to the 1-108th Assault Helicopter Battalion, Kansas Army National Guard, is deployed to the Middle East in support of Operations Inherent Resolve and Spartan Shield.
"Charlie Company provides medical evacuation to ground force commanders in an area of operation," said U.S. Army Maj. Nathan Burr, commander of C Company.
As one of two aeromedical evacuation companies supporting the 35th Combat Aviation Brigade, Missouri Army National Guard, the medevac unit has a particularly critical mission. It provides all aeromedical evacuation aid in Kuwait, supporting all U.S. Department of Defense branches.
C Company, nicknamed Northstar Dustoff, has completed more than twice the amount of medevac missions as their predecessor, in nearly half the time. "For us it's good, because we're flying and doing missions," said Burr. "It doesn't mean more people are getting hurt. I think it just means more people understand what our capabilities are."
Upon arrival in theater, the Northstar Dustoff command began spreading word of their operational capabilities to units in Camp Buehring, as well as other camps in the vicinity. Known as MED101, C Company uses aeromedical evacuation rehearsals and other training, to familiarize units with the aeromedical helicopter and crews' capabilities.
An example of this type of training was a recent rehearsal conducted to prepare U.S. Soldiers assigned to the 155th Armored Brigade Combat Team, Mississippi Army National Guard, and Task Force Spartan for Operation Desert Observer II, a combined training exercise between U.S. and Kuwaiti Land Forces, Dec. 11, 2018. The training offered other units a chance to practice calling in a medical evacuation request and loading patients into and out of a helicopter.
Another service unit members provide is transporting patients from the Troop Medical Clinic here to the hospital at Camp Arifjan, Kuwait. A mission, previously conducted by ground medical evacuation crews, could take an ambulance team nearly six hours to complete. C Company can complete the task and be ready for another mission in less than two hours.
Northstar Dustoff maintains these abilities with a fleet of UH-60L Black Hawk helicopters and nearly 60 personnel.
The UH-60L Black Hawk helicopters are modified to carry all the medical equipment you would see in the back of an ambulance. Equipped to hold up to three litters, or four ambulatory patients, the helicopters are pre-staged to a standard configuration, which allows all crewmembers the ability to know exactly where medical equipment is kept for easy access. Burr said the teams regularly conduct hip-pocket training, asking each other to identify locations of various items during routine flights to maintain familiarity.
Due to the nature of their missions, all personnel assigned to C Company receive additional training to enable continuity in the back of the helicopter and maintain their flight status.
Medevac pilots attend a medical evacuation doctrine course, which teaches the basics of medical evacuation. Knowing these procedures allows a better understanding of the overall mission.
Crew chiefs are not mandated by regulation to complete medical training. However, the unit requires all team members to complete combat life saver training so they can assist the paramedics during flights, if needed. Many of them continue their training to receive a basic EMT certification so they can provide additional assistance, said Burr.
In order to become a flight paramedic, healthcare specialists must be a qualified civilian paramedic and able to pass a flight physical. When a vacancy within the unit is open, qualified personnel can apply for it, go before a review board and then, upon acceptance, attend flight training held at Fort Rucker, Alabama. Flight paramedics complete nearly 11 months of training before they are fully qualified.
U.S. Army Staff Sgt. Jeffrey Schneir, a platoon sergeant, joined the unit in 2012. Like other flight paramedics assigned to C Company, Schneir works as a paramedic for the city of Rochester, Minnesota, when he is not on military duty.
"Flying is the reason I joined the Army," said Schneir. "I can treat patients in the civilian world. I can treat patients on the ground ambulance, but flying was the ultimate goal I had."
Northstar Dustoff has completed over 60 aeromedical evacuations since August 2018. They have also operated at three different sites in the Middle East supporting Operations Spartan Shield and Inherent Resolve.
"Our medics do this because they love helping people," said Burr. "They love their service. They love taking care of people. I'm slightly biased, but the medevac mission, to me, is the best mission in the military because we don't take lives. We save them."