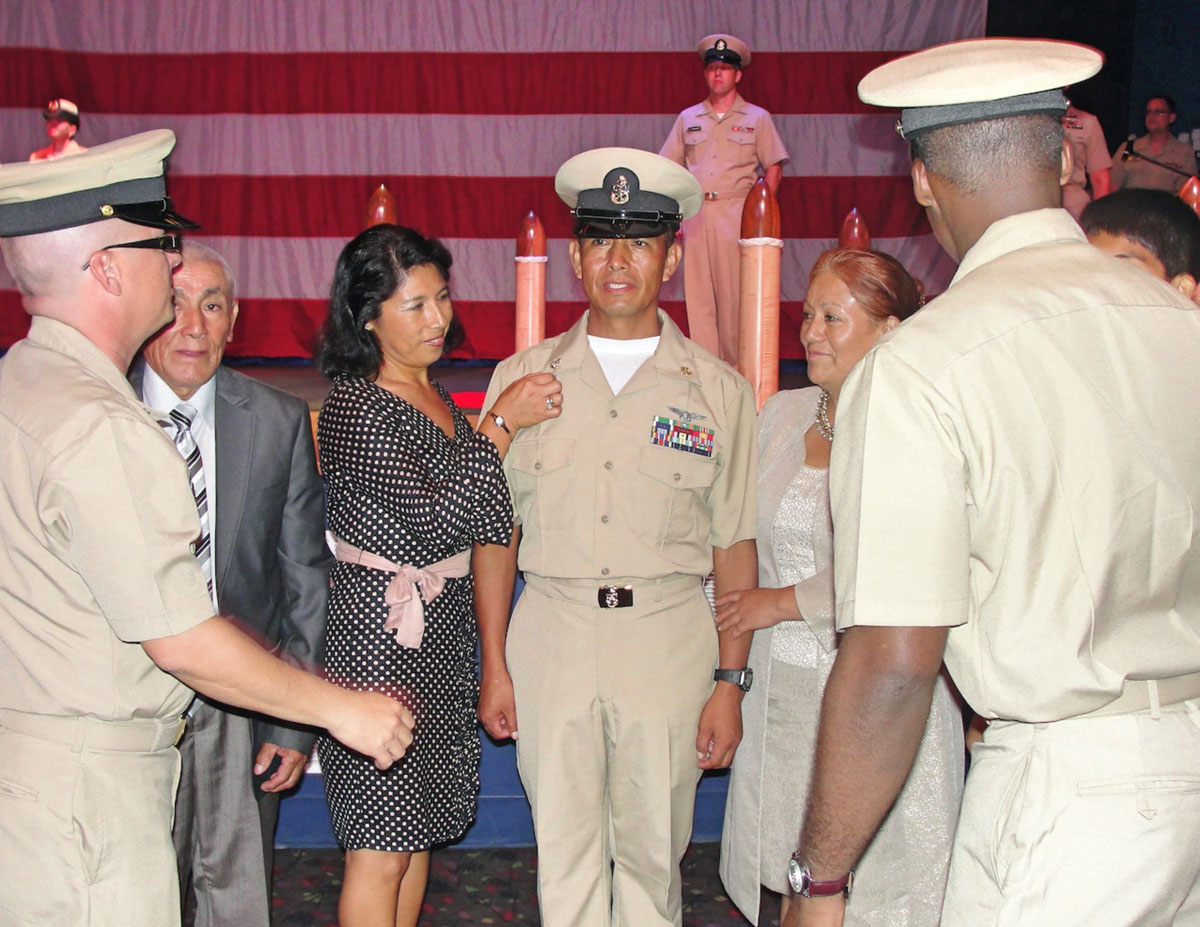 A lot of young people come to the United States looking for a better life, and many join the military as part of their journey. Navy Chief Petty Officer Ubaldo Huaromo, 54, is no exception.
Growing up in Ancash, Peru, he never expected that he'd be traveling the globe managing supplies for the world's greatest navy. While supporting his family in his home country, he was hired by a travel agency. That led to the opportunity of a lifetime. In August 1988, he picked up his life and moved to the United States. Eight years later, he joined the Navy, enabling him to bring his wife and two children into the country. His solid work ethic quickly put him on the fast track to Navy success.
Huaromo has spent the past 24 years working in logistics, a career in which he manages supply inventories and issues them, as needed, whether they're repair parts for aircraft and ships or specialized supplies for special warfare units. He's worked his way up the ranks. Currently he serves as the leading chief logistics specialist and command senior enlisted leader at a fleet logistics center on Diego Garcia, a small British-owned island in the central Indian Ocean. Part of his job is to guide the men and women who serve under him so they, too, find a path for success.
Huaromo will retire in December. As he prepares to rejoin the civilian world, he talked about moving to the U.S., joining the military, and what that decision has done for his life.
Tell me a little about why you came to the United States, and what led you to the U.S. military.
To make a long story short, I lost my mother at age 9, and I was basically forced to work to meet the needs in the family. I remember well my very first job where I used to sell plastic-tube popsicles called ''marcianos'' in the streets of Peru at age 12. I worked at other various jobs while going to school at the same time. After I graduated from high school, through God's grace, I was hired by a travel agency to work as a courier and janitor in Lima. My dedication and work ethic was noticed and admired, and I was given the opportunity to come to the U.S. in search of a better life. The U.S was, and still is, the greatest, and it's full of opportunities where any person in the world would love to land. So, as adventurous as I had become at a young age, I decided to leave my home country to make this dream a reality.
Was it hard, trying to fit in and find work in a new country? And was it a similar experience of assimilation when you joined the military?
It was hard, but not difficult enough to discourage me from what I wanted to accomplish. When I arrived in the U.S in 1988, I already had a baby daughter in Peru, and that gave me more than enough motivation to overcome the obstacles I encountered. The first obstacle was learning a foreign language since I did not speak any English at all. My very first job in the U.S. was as a dishwasher at a seafood restaurant, and, luckily, no English was needed for this.
Eight years later, I joined the Navy at the age of 30. My assimilation to this new adventure and lifestyle was, in a way, very similar. Although English was no longer the major obstacle, it was hard to fit in and interact with such a young group of recruits because I never had a chance to socialize and team up with young adult Americans. If I remember correctly, I was the only recruit in my division who wasn't born in the U.S.
What made you choose the Navy over other branches?
When I was working at a pizza restaurant, I met a sailor who talked to me about life in the Navy and the places he had visited throughout his time in the service, and that was what initially got me interested. I did more research on my own, and I learned the Navy, by far, offers some of the best opportunities to travel around the globe. If you really want to see the world while serving, join the Navy. To date, I have been to 57 countries, which may not have been possible if I had joined another branch.
You enlisted in the Navy at 30 as an older recruit. What would you say to other folks who are considering joining up but might think they're too old?
I always believed you are never too old to pursue what you would love to do. If you have interest in serving your country and being a member of the most powerful armed forces in the world, at least give it a try.
I joined with some fear and uncertainty of where or how I was going to end up in my new adventure. Now, 24 years later, I can only say that it was the best thing I did.
I love what I do in the Navy. I'm ready for anything that the mission calls for while taking care of my sailors and always instilling pride in service, love for country and professionalism.
Explain the job of a chief logistics specialist. What does that entail?
Once you achieve the rank of Navy chief, you become responsible for the smooth operation and personnel management in your department and/or division. You demand and enforce the Navy standards. As chief logistics specialist, my job entails ensuring my personnel provide exceptional customer service and that they are efficiently operating financial accounting systems, including government funds expenditures. [I make sure they're] managing inventories of repair parts and general supplies that support Navy ships, aviation squadrons and shore-based activities, including the military postal service.
What duty station have you enjoyed most, and why?
Personally, I think there is no boring place on Earth if you try to make the best of it and know how to find things to do. However, I must say the duty stations I have enjoyed most are my overseas tours in Spain, Italy and here in Diego Garcia because of the travel opportunities and experiences I gained while exploring different cultures and lifestyles.
What is one of your most memorable experiences in the military?
When I was promoted to the rank of chief petty officer. My entire family in the U.S. witnessed my promotion ceremony in 2012, and my father and my wife, overwhelmed with pride, placed my chief device on my khaki collars. My father and my sister fell into tears seeing me in my new chief uniform. It was very emotional and a milestone achievement.
My other memorable experiences include when I served in Iraq with an aviation squadron in support of Operation Iraqi Freedom and during my last six-month deployment onboard USNS Comfort, where we visited 13 countries, including Panama. I actually had the opportunity to meet the Panamanian president in person in 2015!
What kind of view did your Peruvian family have of the U.S. military before you enlisted? Has that changed in the past 24 years?
We all knew that the U.S. was the most powerful nation in the world, but no one in my family, including myself, knew any specifics about the American military before I came here. Through my involvement over the last 24 years, they learned a lot about it. Even the entire village where I come from learned more about the U.S. and its military. The school I attended sees me as an inspiring role model for the students to follow.
You seem to get a lot of respect from the sailors under you. What sort of advice do you give them about life and their careers?
I give them all kinds of advice, personally and professionally, based on what I have learned through my mistakes and successes … coming from a disadvantaged background. One piece of advice I always give is: regardless of what your current situation is, enjoy life to the fullest and live each day like it's your very last. Life is very precious, but also very short. The great sacrifices you make now will bring big dividends later in life, and great things do not come easily. Personal sacrifice is the first condition of success!
Another piece of advice I always give is to always to do the right thing, regardless of the cost, so that you stand strong and avoid trouble. Be honest, be kind to others, and don't be afraid to make mistakes. But most importantly, own up to your actions and learn from your failures. Work hard and play harder!
What is it about your leadership that you think inspires them?
I always tell my sailors to speak their mind as I do with them, and I encourage them to point out my weaknesses more than my strengths because it's the only way I can be better for them. They like that very much.
What I think most inspires my sailors is that I'm always engaged with them, so we work well together as a team. I don't just direct them and supervise them, but I also put my hands where they put theirs. No job is too hard or ''not a chief's job'' for me. I have no problem doing what an E-1 does. I not only motivate my sailors through words, but I also do it with my actions.
What do you like to do in your spare time?
I like to stay physically active by participating in sports more than exercising at a gym. I grew up playing soccer and continued playing soccer in the Navy … that has given me unforgettable joy and memories, such as when my teams won base-wide championships in Rota, Spain, in 2010 and Sigonella, Italy, in 2017.
I also bike and play tennis and volleyball, but perhaps what I love the most is swimming and snorkeling. Here on the island, I'm a known swimmer for achieving two 50-mile swim goals and for swimming 162 laps (slightly more than 5 miles) in a single freestyle, nonstop event. This was my greatest swimming achievement for which I feel very proud. I go snorkeling every time I get a chance. One time, I got in the water around 10 a.m. and did not come out of the water until sunset. I could happily live in the water with sea creatures if sharks were not around.
You're retiring in December after 24 years of service. Congrats! What do you plan to do next?
It will be my time to do what others did for me when I needed it the most. Because I grew up in a poor family who had very little, I know what it's like to feel helpless. Therefore, my wife — my high school sweetheart — and I plan on traveling around the world and going to some of the poorest places in each country we visit. I'm hoping to volunteer my time and do anything I can to give joy to people who are less fortunate, specifically children and elderly citizens.
From selling popsicles in Peru to my dishwashing job in the U.S., and now retiring as a U.S. Navy chief, I think I've accomplished more than I could have ever imagined. I thank God for his blessings and for keeping me safe throughout my journey, and I also thank the very generous and kind people who gave me a helping hand along the way. Thank you, United States of America, my beloved, adopted country. I am proud to be Peruvian-American, and I can proudly say I have honorably served in the United States Navy!