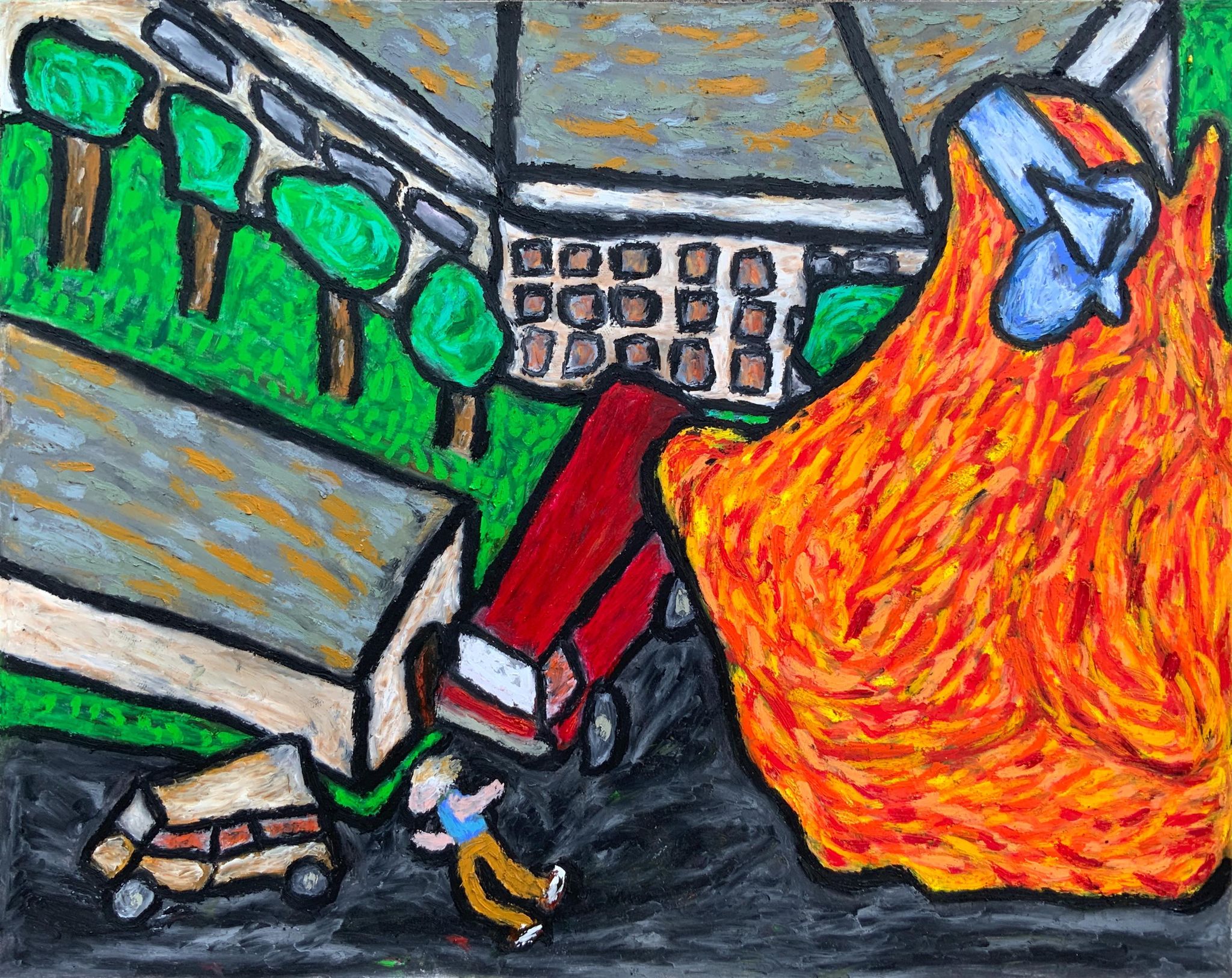 Sept. 1, 2021 - By David Vergun, DOD News - llustration by Mike Howard, DOD − On the morning of Sept. 11, 2001, Pentagon firefighter Alan Wallace was just outside the Pentagon, positioning his firetruck, called a crash truck, near the helipad where helicopters shuttle top brass and civilian leaders to and from the building.
"The sky was an incredible blue without a cloud or contrail in sight. It was the darkest blue sky that you are ever going to see in your lifetime. It was hauntingly blue," he said.
At 8:10 a.m., American Airlines Flight 77, a Boeing 757, left Washington Dulles International Airport with 58 passengers and a crew of six. It flew west across Virginia and West Virginia, then made an unscheduled turn at the Ohio border.
At 9:03 a.m., air traffic controllers lost contact with the plane.
At 9:38 a.m., Wallace, standing beside his crash truck, saw Flight 77 out of the corner of his eye and heard a deafening roar as it screeched just feet above his head.
A wing clipped his crash truck, causing the back of it to explode in flames.
A millisecond later, the plane, filled with jet fuel, hurtled into the building a few dozen feet behind him at a speed estimated at around 400 mph, transforming the 270,000-pound mass of metal and humanity into white-hot shrapnel. The impact, penetration and burning fuel had catastrophic effects on the five floors and three outer rings in and around corridors 4 and 5 and the people who were inside.
Although nothing could have prepared Wallace for the horror and heroism he witnessed that day, Wallace had similar experiences in Vietnam.
His journey there, and later to the Pentagon, began Aug. 2, 1965, when he arrived at Naval Station Great Lakes, Illinois. Wallace became a sailor and received follow-on training as a hospital corpsman. He was later stationed at Bethesda Naval Medical Center in Maryland for two years, then got orders for Vietnam.
On Christmas Day 1967, Wallace began working in the operating room at Naval Support Activity Station Hospital in Da Nang, South Vietnam.
On Jan. 31, 1968, the Tet Offensive began, and intense fighting took place in Da Nang. "It was rocket city," he said, noting that rockets and mortars caused damage and casualties at the hospital.
A flood of wounded arrived at the hospital in the ensuing days, weeks and months. "It was not uncommon to work 24 hours straight," he said. "We were so busy that, at one point, it was three days before anyone had a chance to eat. We were absolutely overwhelmed with wounded."
Looking back on his time there, he said, "I never felt more valuable in my life."
Wallace left Vietnam on New Year's Day 1969; on Feb. 2, 1970, he was discharged from the Navy, returning to his native Ohio to work a few years in a Columbus hospital. After that, he had plumbing and carpentry jobs before becoming a firefighter at the Rickenbacker Air National Guard Base near Columbus in 1981.
In 1993, Wallace accepted a job as a firefighter with the Fort Myer Fire Department in Virginia, which maintained a small fire station at the Pentagon.
On the morning of 9/11, Wallace was just feet from his crash truck, an Emergency One Titan 3000 that was parked about 10 feet from the Pentagon when the airplane struck.
Less than a minute after the plane struck, Wallace jumped inside the burning crash truck and tried to move it, but it wouldn't budge.
"That's a shame because I believe we could have made a difference in stopping the spread of the fire with the foam. But that obviously did not happen," he said.
Wallace then began assisting people as they escaped the building through broken windows on the first floor.
At one point, a woman jumped out of a window and landed on him, knocking him backward to the ground, he said.
After less than 10 minutes of helping people out, Wallace grabbed a breathing apparatus, lantern, and a 20-pound fire extinguisher from the crash truck and rushed through the smoke and into the building.
"I was the first firefighter to go into the building. I had no idea what I was going to do with a damned, 20-pound Purple-K dry chemical fire extinguisher in a five-alarm fire," he said.
Inside, Wallace turned on the extinguisher. It made a loud noise, which caught the attention of a woman who was lost in the smoke and couldn't find her way outside, he said. She got out safely.
Wallace stayed and assisted until about noon before being transported to a hospital for treatment of first- and second-degree burns and a neck injury caused by the initial explosion and fireball.
In October 2003, Wallace retired from the Fort Myer Fire Department. He now lives in Lithopolis, Ohio.
Reflecting back on 9/11, he said: "It's a miracle I wasn't killed in the explosion. I wasn't a hero. I was just an ordinary American doing his job."
On 9/11, 189 people were killed in the attack on the Pentagon, including 125 civilian and military personnel inside the building. Many others, including Wallace, were injured.
Published by permission of DOD.