Support Our Troops® Announces Start of Nationwide Roof Deployment Project
TAMPA, Florida, March 24, 2016 – SOT® is privileged to announce that the nationwide Roof Deployment Project has launched with the installation of the first free roof on SGT Rodriguez' house in San Antonio, Texas!
Thanks to Support Our Troops' newest Patriotic Partner®, Owens Corning, the homes of U.S. military men and women throughout the country will be re-roofed FOR FREE THIS YEAR giving them and their families peace of mind..
Absolutely amazing. A true, physical, useful statement of thanks and support for those who do so much for all the rest of us. Each roof given to one of those to whom it is an honor and privilege to give back. Tangible delivery of our half of the moral bargain.
Who made this wonderful gift possible?
Owens Corning and their local Platinum Contractors across America!
"Support Our Troops® is very grateful for our newest Patriotic Partner® Owens Corning on the Roof Deployment Project," said Martin C. Boire, Executive Director of Support Our Troops®.
On March 14, 2016 a local San Antonio military family received the first new roof.
The inaugural build took place when Beldon Roofing Company of San Antonio, Texas stepped up to install a new roof on the home of Sergeant Juan Rodriguez, a 15-year Texas Army National Guard member with several overseas deployments.
Beldon Roofing Company, an Owens Corning™ Platinum Preferred Contractor, pulled the permits, coordinated everything, and performed the installation for free. They even got a local carpentry firm to replace all the soffit wood for free. Owens Corning donated the materials.
"We are very grateful to SGT Rodriguez for allowing us to use his home as the first re-roof of the project", said Martin Boire of SupportOurTroops.Org. "The first of any project is usually the most difficult because most everything is an unknown to all involved and despite planning we all end up making it up as we go along. It takes a lot of dedication, patience, and adaptability by everyone to make a first event happen. But that's America's forte. And SGT Rodriguez had camera crews, roofers, company execs, and me crawling all over his house for two days. All to film the first re-roof in order to produce a video to be able to clearly explain the Roof Deployment Project to all of the Owens Corning Platinum Contractors at their March 23rd convention in San Antonio, to the military community, to the military functionaries who will identify the recipients, and the American public.
Thank you SGT Rodriguez! Your help will lead to a great deal more for your fellow service members across America!"
And thank you for allowing us to do something for you for a change.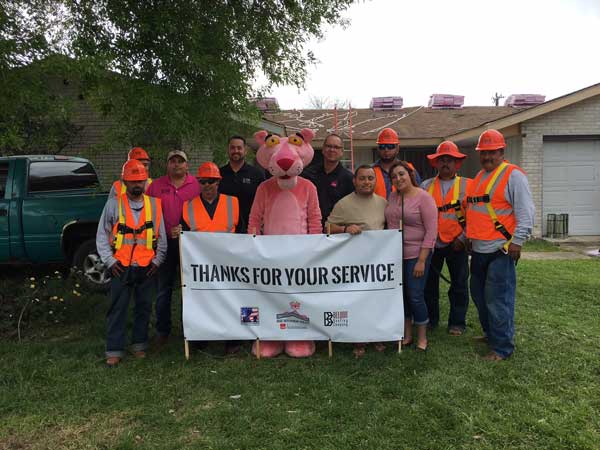 How are Recipients Selected?
Support Our Troops® does not make direct selections. The cost of accurately determining entitlement and need would consume a great deal of money that could otherwise go to service. Instead, SOT gathers money and materiel together, asks many different avenues in the military community worldwide to identify where it is most needed, and then delivers it to there. Per various rules in place to assure propriety, military service members do not directly solicit any charities for significant donations, and charities do not respond to such. Thus in this project, as cites are identified with a roof and perhaps other repairs are possible, SOT works with appropriate military officials to identify the recipient.
Regarding selecting appropriate recipients for roofs specifically, SOT's Martin Boise declared "This is not a contest. That would be insulting to every single military service member."
"Selecting appropriate re-roof recipients is absolutely not our place. Our place is to serve them and they do not need another door to hunt down and knock on. They do not need us to size them up or another form to fill out. That is for their peers within the military community, not us. They know. We don't. We simply work within the appropriate persons military community regarding what we have available, and this charity delivers the roof. A simple, efficient, fair, certain, valid method."
About the First Roof Recipient.
"Sergeant Rodriguez is an inspiration to us all by giving a huge part of his life to the service of this country," said Bill Mabry, Contractor Network Leader, Owens Corning Roofing and Asphalt at the site of the first re-roofing. "Our goal is to continue this program to help individuals like Sergeant Rodriguez. We understand military families can face a lot of stress with having a loved one away from home, and the Roof Deployment Project is here to help make their lives a little easier."
Military life presented several challenges for Sergeant Rodriguez, father of four. One of those challenges was concern about the structure of his home due to many years of damage to his roof.
"It's a great feeling to be able to use our expertise and the resources from our company to help others and Sergeant Rodriguez and his family are very deserving and grateful for this gesture," said Brad Beldon, CEO of Beldon Roofing Company. "A project like this can really change a family's life, and that's a tremendous feeling to experience."
Soldiers are often away from home for long periods of time and, as a result, it can easily take a toll on their families. Nearly 40 percent of military spouses feel stressed most or all of the time, and one of the top stressors is household responsibilities. Which is one reason why SOT operates Operation Military BRAT® which bolsters military families worldwide in many different ways from food on the table, to sports, to support of a network of familiar social youth groups which provide familiarity, stability and continuity as they move with their parents from country to country every few months.
Through the Roof Deployment Project, Owens Corning and its Platinum Preferred Contractors aim to lessen the stressors that can weigh hard on military families' daily lives.
About Beldon Roofing
Beldon Roofing Company, an Owens Corning™ Platinum Preferred Contractor, has been in business in San Antonio for more than 70 years and is dedicated to providing the best service, products and craftsmanship to its valued customers. Owens Corning Platinum Preferred Contractors meet strict standards for professionalism, business stability and customer service. They are the only contractors that can offer Owens Corning's best warranty and represent less than 1 percent of roofing contractors.
About Owens Corning
Owens Corning (NYSE: OC) develops, manufactures and markets insulation, roofing, and fiberglass composites. Global in scope and human in scale, the company's market-leading businesses use their deep expertise in materials, manufacturing and building science to develop products and systems that save energy and improve comfort in commercial and residential buildings. Through its glass reinforcements business, the company makes thousands of products lighter, stronger and more durable. Ultimately, Owens Corning people and products make the world a better place. Based in Toledo, Ohio, Owens Corning posted 2015 sales of $5.4 billion and employs about 15,000 people in 25 countries. It has been a Fortune 500® company for 61 consecutive years. For more information, please visit www.owenscorning.com.
About Support Our Troops®
Support Our Troops provides simple constructive ways for citizens and community minded businesses to show their patriotism and appreciation for those who sacrifice so much to protect our country, our homes, our families, and our American way of life. Support Our Troops is a registered trademark licensed through SupportOurTroops.org. The official SupportOurTroops.org website is a nationwide platform for individuals, organizations, businesses and non-profits to bolster America's troops and their families in a multitude of ways. It is a moral covenant with those who serve to protect us and our families. If you want to do something for the troops, SOT will help get it done.
About the Roof Deployment Project
The Roof Deployment Project is an initiative by Owens Corning and its Platinum Preferred Contractors to identify, honor and help protect deserving military families by installing new roofs.
Learn more at SupportOurTroops.Org/OC or RoofDeploymentProject.com
All Together Now!®