Eagle Scout's Project collects donations for troops overseas
Pompano Beach, FL – November 17, 2016:
Wow do eagles soar!
Jeremy, Troop 512, completed his Eagle Scout Project by collecting donations for the military troops serving overseas.
He was able to collect and donate 212 large boxes of care package goods for the troops, worth $112,000.00!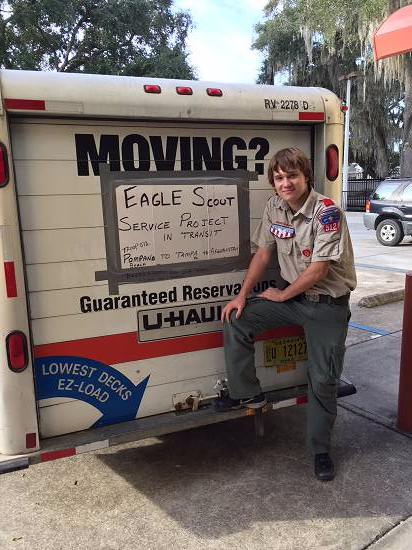 Over the course of 2 months and the help of 54 people Jeremy racked up 937 service hours for his project, collected over 8,569 books, and 475 DVDs.
When asked why he chose this project, his response was, "They serve, they protect US, I want them to know people care."
Jeremy also noted his family has a long history of serving in the military, dating as far back as the Civil War. "My dad was in the Army in the 80's, my grandpa was in the Navy for over 20 years. He was on the USS Forrestal in Vietnam, and was even a part of a space mission splashdown recovery in the 60s. I have great uncles that were in the Air Force and Marine Corps and we're a part of the Korean Air Lift. My great grandpa was in the Army in Europe during World War II."
Jeremy is giving serious thought to joining the Navy.
Way to go Jeremy!!