Gowen Thunder Airshow Supported by Support Our Troops®
Boise, Idaho, 10-10-2017: Support Our Troops® has facilitated provision of $349,029 in cash and material in support of the 124th Fighter Wing's 2017 Gowen Thunder Open House and Airshow, including without limitation: Pilots and performers, vehicle rental and fuel cost, jet fuel cost, Commander tent and catering, air boss announcer PA system, smoke oil, fuel and resources for the Jets and performers, hotel rooms, pyrotechnics, food and water, advertising, parking lots, first aid standby, bussing costs, and the like.
Where: Gowen Field, Boise Idaho
When: October 14-15, 2017, 0830 Gates Open to the Public, 1630 Gates Closed
Why: Build the bond.
This airshow presents a unique combination with a lot of history behind it: the American Thunderbirds, and one of our closest allies and good neighbor to the north, represented by their Canadian Forces (CF) Snowbirds, 431 Air Demonstration Squadron. If there's a problem in the world, their forces are almost always shoulder to shoulder with ours.
About the Thunderbirds - America's Ambassadors in Blue
The Thunderbirds have the honor of representing nearly 700,000 active duty, Air Force Reserve, Air National Guard, and civilian Airmen across America and deployed around the world. Millions of people have witnessed the Thunderbirds demonstrations, and in turn, they've seen the pride, professionalism and dedication of hundreds of thousands of Airmen serving at home and abroad. Each event such as this is another opportunity for the team to represent those who deserve the most credit: the everyday, hard-working Airmen voluntarily serving America and defending freedom, and build the connection between the people and their Airmen.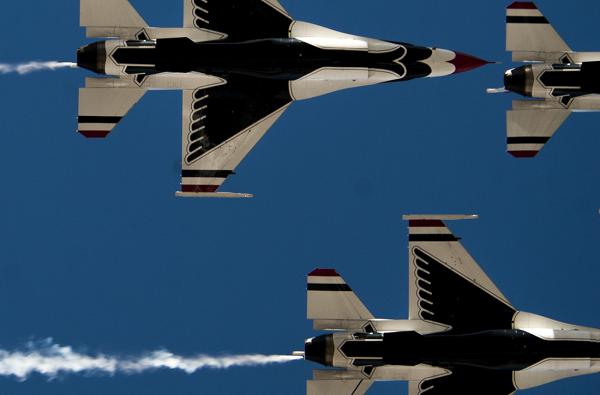 Air Force Thunderbirds
About the Canadian Snowbirds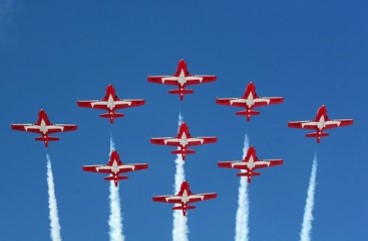 Canadian SnowbirdsThe Canadian Forces (CF) Snowbirds, 431 Air Demonstration Squadron are a Canadian icon comprised of Canadian Armed Forces (CAF) members and National Defence Public Service employees. Pilots, technicians (aviation, avionics, aircraft structure, supply), mobile support operators, resource management support clerks, an engineering officer, a logistics officer and a public affairs officer representing all three elements (Army, Navy and Air Force), work as a team to bring thrilling performances to the Canadian public. Serving as ambassadors of the CAF, the CF Snowbirds demonstrate the high level of skill, professionalism, teamwork, discipline and dedication inherent in the men and women of the CAF and they inspire the pursuit of excellence wherever they go in North America
Schedule
Aerial Demonstrations begin at 10:30 AM
Wings of Blue Jump Team
Warhawk Air Museum- P-40/P-51 "Boise Bee"
Combined Arms Demo- A-10 and HH-60
Royal Canadian Snowbirds
Brad Wursten- Aerobatic Demonstration
Dan Buchanan- Variety Hang Glider Act
Ace Maker- Greg "Wired" Colyer- Warbird Demo
A-10 Heritage Flight with A-1 Skyraider
Round Round Warbird Flight
Mark Peterson- P-51 "Hell-er bust"
SAF Thunderbirds
Enjoy the incredible sights and sounds of the USAF Thunderbirds and the Canadian Aerial Jet demonstration team, the Snowbirds! Also witness many other incredible ground performers and partake in a variety of activities over the course of both days.
All Together Now!®
Donate to Support Our Troops® today!