Carl Vinson Strike Group Departs Vietnam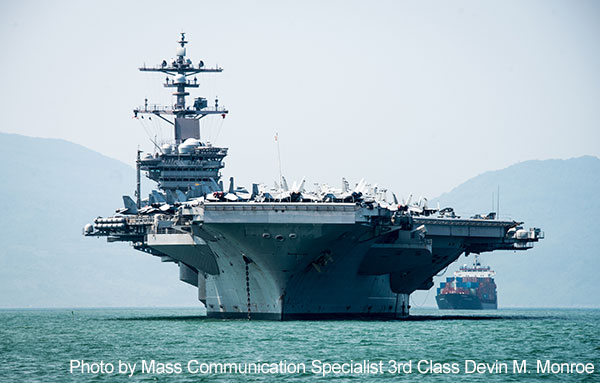 The Nimitz-class aircraft carrier USS Carl Vinson (CVN 70) arrives in Da Nang, Vietnam for a scheduled port visit. The Carl Vinson Strike Group is in the western Pacific as part of a regularly scheduled deployment.
DA NANG, Vietnam, March 5, 2018 - The Carl Vinson Strike Group departed Da Nang, Vietnam, March 9, completing a historic visit that marked the first time a U.S. aircraft carrier has visited the country in more than 40 years.
The aircraft carrier USS Carl Vinson (CVN 70), cruiser USS Lake Champlain (CG 57) and destroyer USS Wayne E. Meyer (DDG 108) departed following a four-day port call. The strike group will continue a regularly scheduled deployment in the Indo-Pacific region.
"We feel very honored to have been part of this historic visit," said Rear Adm. John Fuller, the strike group commander. "The government and people of Vietnam extended an incredibly heartfelt welcome and made this visit one to remember."
Sailors participated in cultural and professional exchanges during community service events, sports competitions, ship tours and a formal reception aboard the aircraft carrier. Additionally, Navy musicians from the U.S. 7th Fleet Band performed free public concerts.
"I loved it. I loved the tours and I loved the food," said Electronics Technician 3rd Class Chloe Meinert, from the Carl Vinson Combat Systems Department. "I liked how enthusiastic people were with meeting us and how everyone wanted to take our picture."
Carl Vinson, America's third Nimitz-class aircraft carrier, hosted more than 1,300 guests for tours, professional exchanges and a formal reception attended by the U.S. Ambassador to Vietnam Daniel Kritenbrink and Commander, U.S. 7th Fleet Vice Adm. Phillip Sawyer.
Carl Vinson has a crew of 5,000 Sailors who support and conduct air operations at sea. The strike group is comprised of a total of 6,000 Sailors, an aircraft carrier, an air wing, a cruiser, and two destroyers, including USS Michael Murphy (DDG 112).
The strike group's deployment marks the second time it is operating in the Indo-Pacific region under U.S. 3rd Fleet's command and control. U.S. 3rd Fleet's control of ships and aircraft across the Western Pacific and beyond the international dateline to India enables U.S. 3rd and 7th Fleets to operate together across a broad spectrum of maritime missions in the region.
From Carl Vinson Strike Group Public Affairs