Like Riding Horses on the Beach? These Airmen Do It for a Living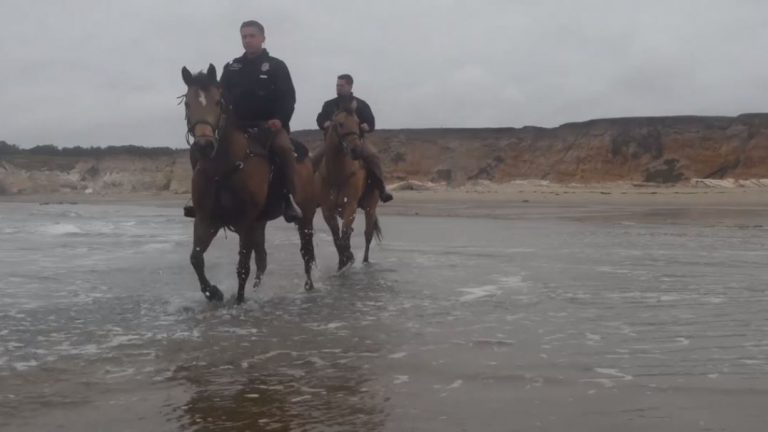 Air Force Staff Sgt. Zechariah Landa and Senior Airman Michael Terrazas trot along the beach on the unit's working horses.
By Katie Lange, Department of Defense
Imagine clomping over acres of rugged land that can only be accessed by the horse who's carrying you. Occasionally you might see the ocean or even an all-terrain vehicle, but for the most part, it's just you, your horse and the land.
Not a lot of service members get to experience that, but the members of Vandenberg Air Force Base's Working Horse Patrol call it their job.
"It's the last military working horse patrol unit in the entire Department of Defense," said Air Force Staff Sgt. Zechariah Landa, the patrol's noncommissioned officer in charge.
Here's why.
Vandenberg is the third-largest U.S. Air Force base, and it covers about 99,600 square acres – including 45 miles of coastline – in Santa Barbara County, California. But only about 15 percent of it is accessible by vehicle. ATVs can get to more of the land, but there is still some rugged terrain even they can't reach. That's where the Working Horse Program comes in.
The 30th Space Wing manages DoD space and missile testing, as well as placing satellites into polar orbit from the West Coast using expendable boosters. The horse patrols give officials the ability to scour the entire base for security and safety purposes before launches.
They're also used for conservation law enforcement patrols.
"All four of our horses are registered quarter horses, which pretty much means they're the fastest horses when it comes to the quarter mile," explained Senior Airman Michael Terrazas, one of the horse patrolmen. "They're pretty agile, quick with maneuvers and really important for the kind of terrain we deal with here."
"We have to go out to those rough, mountainous terrains, as well as on the coast. The horses are a better means of transportation when we're patrolling the coastline," Landa said.
Since the base is filled with wildlife, the horses are part of one of four Air Force conservation squadrons in the U.S.
"We're going to be enforcing hunting and fishing regulations and natural resource laws," Landa said, "and protecting any kind of endangered species, animal or plant."
"A big part of our job is the western snowy plover, which is a protected species that nests on Vandenberg," Terrazas said.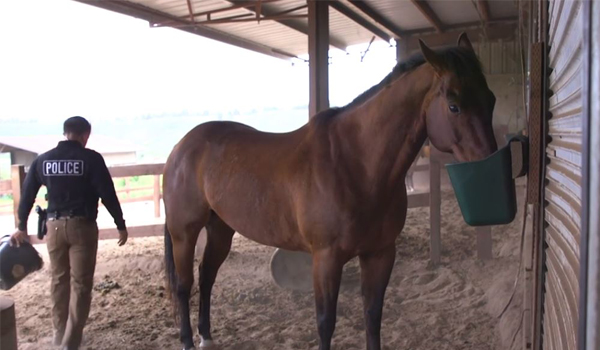 A horse in the Working Horse Patrol at Vandenberg Air Force Base gets fed and groomed before it gets to work.
Before they can do their jobs, though, the horses require a lot of maintenance. Each day, the airmen have to make sure the horses are fed and in good shape. They check for injuries, pick their hooves and give them a general brush down before they can saddle up.
"We use the horses to go patrol the beaches. They're the most environmentally friendly way to do it without leaving too much of a footprint," Terrazas said. "The horses really do play a key part."
They're also one of the best parts of the job.
"Riding them on the beach, riding them in the woods – most people pay for that experience, and we get paid to actually do it," Terrazas said. "It's a pretty good feeling."