103rd Airmen visit high school students for Veterans Day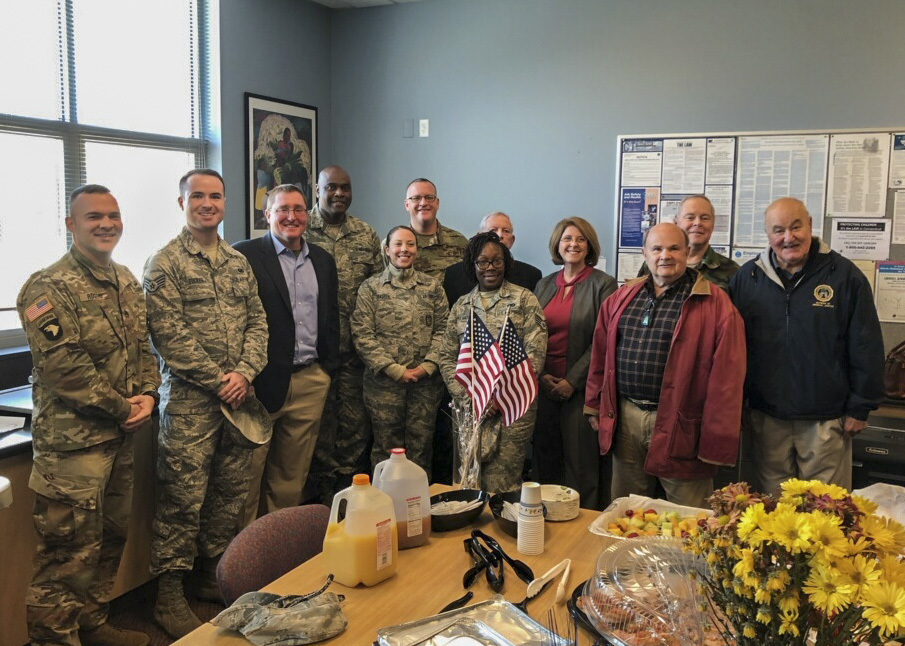 Airmen from the 103rd Airlift Wing join other service members and veterans for Granby Memorial High School's Veterans Day and Service Men and Women Recognition event Wednesday, Nov. 6, in Granby, Conn. The annual event features a reception for participants and pairs them with student groups for question-and-answer panels about their experiences in military service. (Photo by Staff Sgt. Steven Tucker)
GRANBY, Conn. – Airmen from the 103rd Airlift Wing joined other service members and veterans for Granby Memorial High School's Veterans Day and Service Men and Women Recognition Nov. 6.
Student government members and faculty welcomed participants with a reception in the high school commons followed by question-and-answer panels.
"We want students to understand that Veterans Day is not just a day off to play games or shop for sales – that it actually means something," said Kimberly Calcasola, assistant principal. "We want to recognize the work that all of our service members and veterans have done to protect our way of life."
Firsthand conversations give students a much different perspective in this appreciation, said Calcasola.
"Our students get so much from hearing different experiences: why people got into the service in the first place, what they ended up finding by joining and how that shaped their lives even after they left the service," said Calscasola.
Speaking to this age group is especially important in educating the community about military service, said Senior Master Sgt. Christina Glasper, 103rd inspector general inspections superintendent.
"I think it's important for them to know more details about the relationships we build in our service as opposed to just seeing things on television," said Glasper. "High school students are the next generation of team members coming in, so if they decide to join as well, this gives them a better perspective of what we do."
Hearing perspectives of service members in Granby's backyard helps bring the world into their community, Calcasola said.
"You cast a large net inviting people to see what will happen, and the support we've received from the adjutant general and the services in the area has been amazing," Calcasola said. "I can't thank everyone enough."
The combined support of veterans and current service members gave students a well-rounded view of those who have served, said Glasper.
"I think they mostly took away the perspective of people that have served one year all the way to 36 years," said Glasper. "They even got to see veterans from previous generations in their VFW gear."
Glasper, who also serves as quartermaster for Post 574-Plainville VFW, Plainville, Conn., said it's important for people to see that for many, the military becomes a brotherhood they never lose.
"Some of our members are in their 90s and have been involved since they were in the service as teenagers," said Glasper. "It doesn't just go away; once you're in, your heart is in it forever."