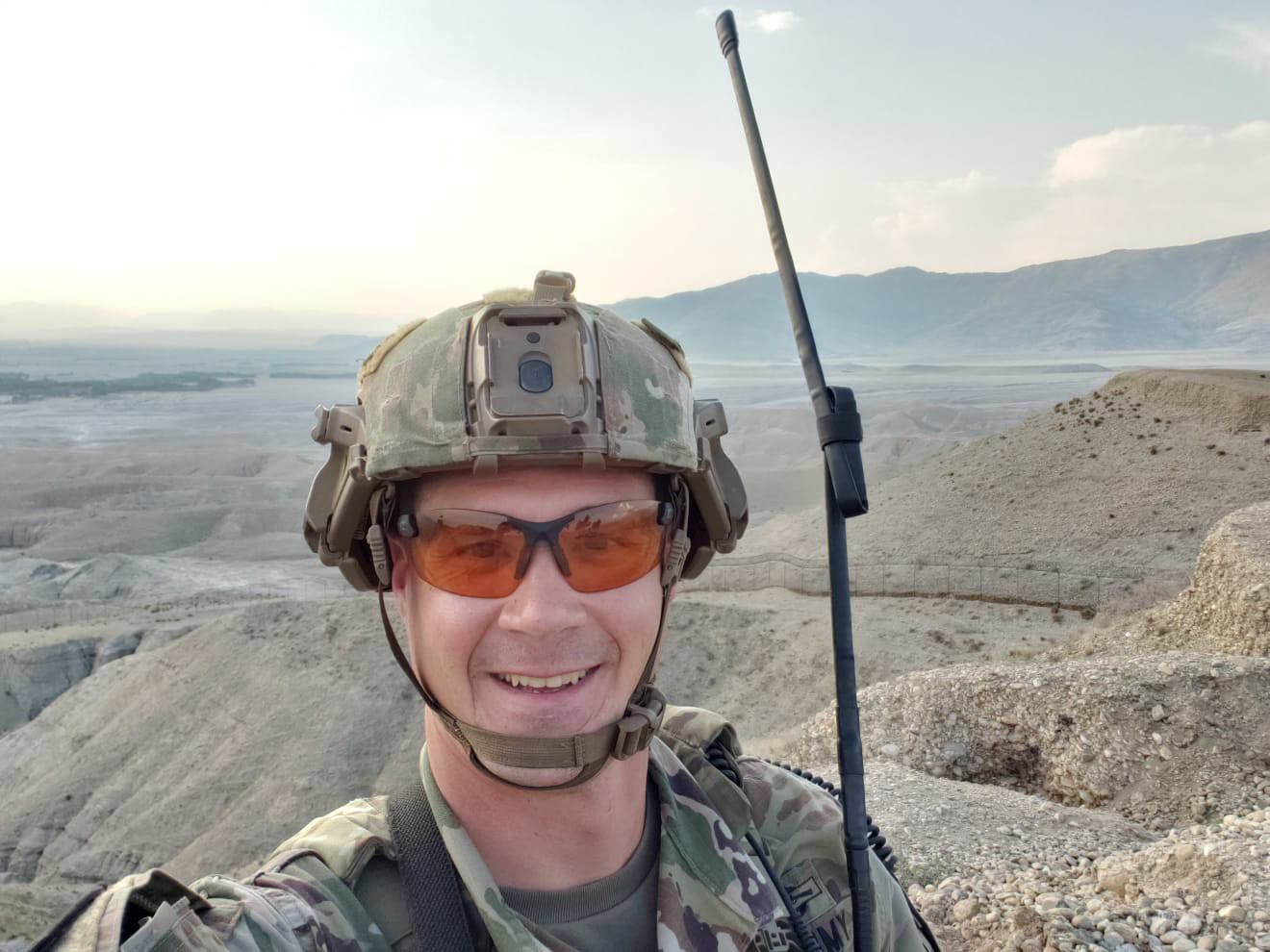 Staff Sgt. Benjamin Sieg, a quick reaction force squad leader in A Company, 1st Battalion, 128th Infantry, in Afghanistan. The 1st Battalion, 128th Infantry, deployed to Afghanistan in July 2019, and is acting as a "Guardian Angel" security element for the 3rd Security Force Assistance Brigade. (Photo by Courtesy)
By Capt. Joe Trovato
Afghanistan, March, 2020 – The Soldiers of the Wisconsin Army National Guard's 1st Battalion, 128th Infantry, remain hard at work in Afghanistan.
The nearly 400 "Red Arrow" Soldiers from the 32nd Infantry Brigade Combat Team mobilized for deployment in July and serve as a security element for the Army's 3rd Security Force Assistance Brigade, or SFAB. The 128th integrated into the 3rd SFAB as its seventh battalion.
Known as "Guardian Angels," the Red Arrow Soldiers are providing force protection for key leader engagements and training between advisers, other coalition forces, contractors and Afghan troops.
"We're doing the job our nation asked us to do, and we're doing it well," said 1st Lt. Brian Sikma, a platoon leader in C Company, 1st Battalion, 128th Infantry. "There are a lot of ways to serve and give back to your community. For those of us in the military, this is our way to pay it forward to the next generation."
The impact Sikma, of Watertown, Wisconsin, and his troops are having in Afghanistan cannot be understated.
"My Soldiers have provided security for American advisers, managed multimillion-dollar sensors and systems to protect American bases and personnel, saved the lives of injured Afghan personnel, facilitated targeting of Taliban fighters, and even helped train American and Afghan personnel on weapons and tactics," he said.
The 128th replaced their Wisconsin Army National Guard and Red Arrow brethren from the 2nd Battalion, 127th Infantry, who performed the same mission for the Army's 2nd SFAB last year. The 127th returned to Wisconsin in late 2019 after becoming the first National Guard battalion to partner with the Army's new SFABs. And despite both the 127th and 128th's illustrious histories and lineages and that of their parent unit, the 32nd "Red Arrow" Infantry Brigade Combat Team, their respective deployments to Afghanistan represented the first two deployments in history to Afghanistan for Red Arrow units.
Soldiers say the close connection with the unit they replaced helped ensure a smooth transition.
"We received an outstanding (relief-in-place) from the 127th, and they set us up for success," said Spc. Jacob Nutt, a B Company Soldier from Ashland, Wisconsin. "Our link up with our adviser team went smooth, and it seems we share a similar set of priorities."
The Red Arrow's deployments since Sept. 11, 2001, had all been to Iraq or Kuwait, in addition to a combat history in the Civil War, World War I, and World War II. The 128th traces its lineage to Wisconsin's famed Iron Brigade and the 1st and 2nd Wisconsin Volunteer Infantry that earned fame for their ferocity at places like Antietam and Gettysburg. The units morphed into the 127th and 128th Infantry at the outset of World War I.
Yet despite such a lofty legacy, this iteration of the Red Arrow serving in Afghanistan continues to carve out its place in history.
"The security force advisers we work with every day are ardent professionals and have made significant progress with their assigned local security force partners," said Staff Sgt. Benjamin Sieg, a quick reaction force squad leader in Company A, 1st Battalion, 128th Infantry. "Much of this success has been due to their freedom of operation due to our commitment to their security."
Some of the Soldiers noted their status as National Guard Soldiers brings a unique perspective other branches of the military don't always have, which helps make a hybrid organization like the SFAB even stronger. Some of the National Guard troops, for example, are civilian law enforcement officers or first responders.
"Being a part of the National Guard allows us to use our experience we have gained from our civilian careers and utilize them to our advantage," said Spc. Jonathan Raatz of Watertown.
Sieg said that Citizen-Soldier mindset is part of what makes the Guard such a vital part of the Army's total force.
"We have construction workers, engineers, college students, police officers, car salesmen and every job in between," he said. "The Soldiers also serve their country and do so at a very high professional level. This ability to be highly successful in both fields speaks wonders to their ambition, intelligence, and patriotism.
"The Soldiers I serve with all want to make a difference and work hard to accomplish the mission," he added. "Some came over as brand new parents. Some put their college degree on hold. Some had to pause their own businesses. All had to sacrifice, and all of them have done so willingly."
"I couldn't ask for a better group of people to serve with," said Sgt. Emily Shilts, an intelligence analyst assigned to 128th's headquarters and a New Richmond, Wisconsin, resident. "Not only from our unit, but the other units we work with are great as well. Everyone brings something different to the table – personalities, wisdom, knowledge, skills, jokes – you name it. It's everybody's differences that make the mission a success."
Pfc. Tyler Nystrom, assigned to A Company, said he and his team have grown incredibly close during the mobilization.
"I wouldn't want to be deployed with anyone else," he said. "This is my second family, and I'm proud to be here with this group.
Many of the Soldiers said the deployment has had a major impact on their personal and professional development. Spc. Josiah Wahl, a B Company Soldier from Chippewa Falls, Wisconsin, said he has lost nearly 30 pounds, works out every day and has read five books. He also said the unit stays sharp with rigorous training and constant defensive improvements.
"It's been fulfilling and meaningful work improving our base defenses and training to provide security for advising missions at Afghan military bases," he said. "The weekly range time has sharpened our marksmanship, and hosting meetings between advisers and Afghan military leaders has been fascinating."
Wahl credited the professionalism of the Soldiers in the 128th for their mission success – and perhaps some humor as well.
"These are highly professional, tactically, and technically proficient Soldiers who maintain a high level of physical fitness and personal discipline," he said. "All of them take pride in doing an excellent job in whatever tasks they are given. Not only that, but I feel sure we have the funniest Soldiers in the battalion in my platoon."
Humor and bonding is critical to building cohesiveness, which helps overcome the challenges inherent with deployment and separation from loved ones.
"This is my first deployment having to say goodbye to a child," Sieg said. "Even leaving her well cared for and with every provision taken care of, it has been very tough. I love my daughter, and not a day or moment goes by where I don't worry about her. Missing the special days like her first time riding a bus, her birthday, holidays, and even her sad days – when she's having a rough day, illnesses and when you can tell she misses you. Coming back home to see my daughter will easily be one of the best days of my life."
Sgt. 1st Class John Bensend, a platoon sergeant in D Company, said the separation from home and family has been the most difficult part of the deployment.
"Between my wife and I getting married in March of last year and purchasing our first home last summer, it has been a busy first year of marriage," he said. "However, my wife is an incredibly strong woman and is taking the whole experience in stride."
Support from home and the state of Wisconsin has eased the burdens on the unit and families.
"The support from home has been amazing," Spc. Taylor Koenig, an A Company Soldier from Barron, Wisconsin, said. "It seems like every week I get a care package, or someone is asking me what I would like to be sent. From family to my friends to the VFW and schools in my small hometown, the support has been more than I could ever imagine.
"Easily the toughest part of this deployment has been being away from family and friends," he added. "Having something that is hard to be away from makes it a constant reminder of why you are here in the first place and who you do it for."
Redistributed by permission of DOD