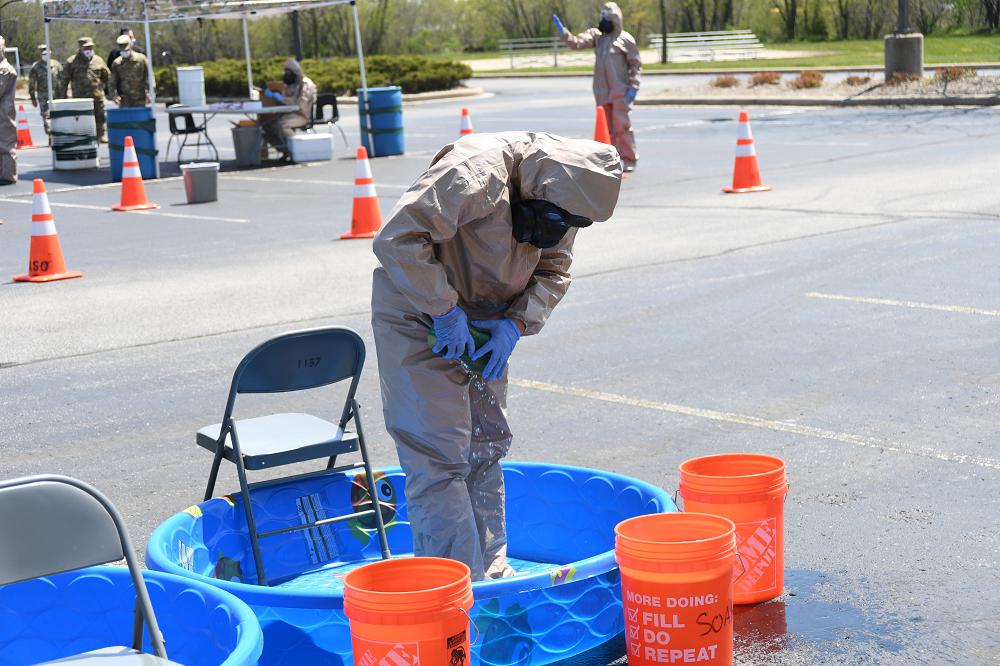 Citizen-Soldiers and Citizen-Airmen from the Wisconsin National Guard collect specimens for COVID-19 testing May 13, 2020, at Burlington High School in Burlington, Wisconsin. The Wisconsin National Guard has 25 specimen collection teams operating throughout the state.
MADISON, Wis. – Twenty-five specimen collection teams from the Wisconsin National Guard continue to help increase the state's COVID-19 testing capacity. Four teams collected specimens Sunday and 19 were collecting them May 18.
The 600 Citizen-Soldiers and -Airmen on the teams established mobile testing sites at correctional facilities and health clinics, private businesses, and drive-thru locations. After collecting the specimens at each site, Wisconsin National Guard troops send the test kits to a state lab for analysis. Results are shared with people via a phone call from their local health department or a state call center in three to five days.
As of May 18, Wisconsin National Guard teams had collected 42,138 specimens statewide.
In addition, 39 Guard troops are working at a call center that informs people of their COVID-19 test results.
The Wisconsin National Guard has fulfilled a variety of roles across the state since Gov. Tony Evers declared a public health emergency March 12.
Thirteen Citizen-Soldiers are assisting the Wisconsin Department of Health Services at a state warehouse, receiving personal protective equipment (PPE) shipments from around the state, repackaging them, and redistributing them to areas in need.
Teams of 15 troops are serving as medical and administrative staff at two state-run voluntary self-isolation facilities in Milwaukee and Madison, while eight Guard members are serving at a Milwaukee County-run self-isolation facility.
Another Guard team is supporting the Dane County Coroner's Office with mortuary affairs operations.
A team of six Guard medics helped out at a senior living facility in Grafton for three days after a COVID-19 outbreak resulted in a temporary staff shortage.
More than 2,400 Guard members served as poll workers in 71 of Wisconsin's 72 counties during the April 7 election. Another 160 Guard members helped out at polling places for the May 12 special election in Wisconsin's 7th Congressional District.
Almost 1,400 Citizen-Soldiers and -Airmen from the Wisconsin National Guard are now serving in direct support of the state's response to COVID-19 – part of a nationwide force of almost 46,000 National Guard members helping to battle the spread of the coronavirus nationwide.
Distributed by permission of DOD