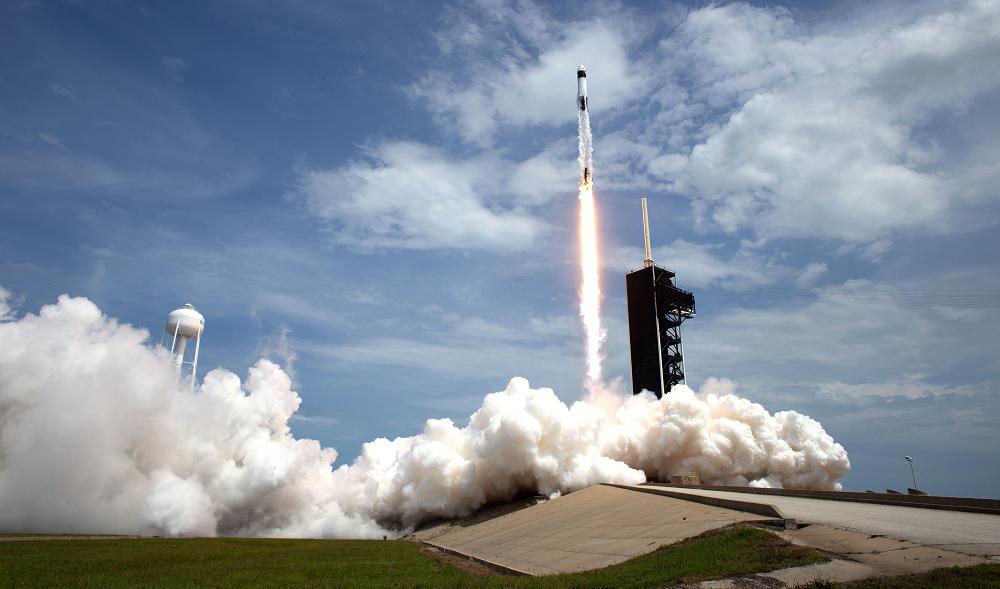 A SpaceX Falcon 9 rocket carrying NASA astronaut and retired Marine Corps Col. Douglas Hurley and fellow crew member Robert Behnken heads skyward during liftoff from Launch Complex 39A at NASA's Kennedy Space Center, Florida, May 30, 2020. The mission marks the resumption of human space flight from the United States. Air National Guard members in Alaska and Hawaii provided support to the launch mission.
(NASA photo by Joel Kowsky)
ARLINGTON, Va. – National Guard members in Alaska and Hawaii were on duty Saturday as NASA launched its first manned space mission since 2011.
Guard members with the Alaska Air National Guard's 176th Wing and the Hawaii Air National Guard's 154th Wing were there to provide search-and-rescue support in case a mishap forced the astronauts aboard the spacecraft to abort the mission during launch and splashdown in the Pacific region.
"We provide the rescue network with the C-17 [Globemaster III]," said Air Force Lt. Col. Anthony Davis, with the 154th Wing and head planner for the contingency mission. "It's an exciting moment to be able to return to such a meaningful mission."
But that's not the only way Guard members contribute to the space mission, something they've been doing for about 25 years.
"We have a plethora of mission sets – some that deploy, some that stay at home – that really mirror our active duty counterparts," said Air Force Brig. Gen. Patrick J. Cobb, deputy director of space operations at the National Guard Bureau.
About 1,500 Guard members in seven states and one territory are part of space-related missions, ranging from satellite control, missile warning and interception operations to intelligence, analysis and electronic warfare.
The Guard's space elements are just another way the Guard supports the warfight, said Air Force Maj. Gen. James O. Eifert, the adjutant general of the Florida National Guard.
"It's a kind of revolutionary opportunity for combatant commands to see what these tremendous space professionals can bring to the team and how we can best deploy them," said Eifert.
Guard space units also are key to protecting the homeland from long-range missiles and similar threats.
Much of that mission set falls to the Alaska Army National Guard's 49th Missile Defense Battalion, based at Fort Greely, Alaska, whose Soldiers track and, if necessary, launch countermeasures to eliminate incoming threats.
To do that, the unit works with Airmen of the Alaska Air National Guard's 213th Space Warning Squadron, located at Clear Air Station, Alaska.
"In simple terms, it's going to be a spotter-sniper relationship," said Air Force Brig. Gen. Torrence W. Saxe, the adjutant general of the Alaska National Guard. "[Clear Air Station is] going to see it, and Greely is going to shoot it down."
Those units are only one element of that mission. The Colorado Army National Guard's 100th Missile Defense Brigade serves as the higher headquarters for the 49th Missile Defense Battalion and other elements based in the California and New York National Guard.
Many of those units execute the mission with a force of mostly full-time Guard members, while constantly training on new possible threats.
"That person who is on the floor has 60 seconds to make a determination on whether it's a valid threat or not," said Saxe. "That is certainly something we train very hard for, and we want to be part of that overarching team to protect America and the Pacific."
The technological capability stemming from the space mission also has disaster response applications, said Army Maj. Gen. David S. Baldwin, the adjutant general of the California National Guard.
"We use space-based systems on every single wildfire," he said. "Not only to do fire mapping and control, but we now use those systems for fire detection – where we are able to detect, in many cases, where fires begin – well before the first 911 calls come in."
Leveraging those systems, said Baldwin, saves lives and property by allowing for quicker response to an often rapidly changing situation.
Much of the ability to leverage those systems comes from Guard members themselves. Many traditional Guard members – those serving part-time – have civilian careers in space-related fields, especially in Colorado and Florida. That allows for another level of expertise in the space mission.
"[The Guard] brings that breadth of experience and knowledge from the industrial and civilian base to the active component when we get deployed," said Eifert.
Cobb likened the Guard's space mission set to another, relatively new domain that began about a decade ago: cyber.
"Ten years ago, [many] were going down the path of, 'Should the Guard be in cyber?'" he said, noting the Guard's recent efforts to provide cyber election security and protect governmental organizations from ransomware attacks.
With space, Cobb anticipates a similar future.
"We are only scratching the surface in space right now," he said.
Distributed by permission of DOD