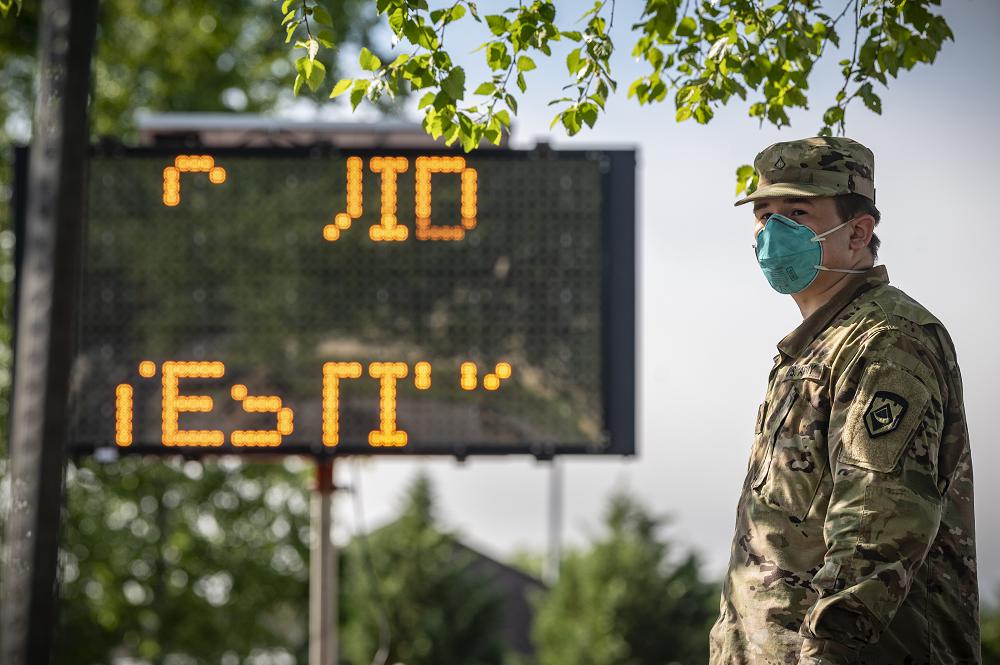 A West Virginia National Guard Soldier waits for local citizens to arrive to be tested for COVID-19 on May 22, 2020 in Charleston, W.Va. The WVNG's Chemical, Biological, Radiological, Nuclear and Explosive (CBRNE) Battalion, the 35th Civil Support Team (CST), and the 35th Enhanced Response Force Package (CERFP), which make up Task Force CRE, and Task Force Medical personnel are highly trained in operating in a "contaminated environment" and have conducted more than 3,000 tests for COVID-19 in 87 lane support missions since the beginning of our response 70 days ago. (U.S. Air National Guard Photo by Staff Sgt. Caleb Vance)
CHARLESTON, W.Va. – The West Virginia National Guard has boxed and delivered more than 320,000 meals for West Virginians, moved more than 2.5 million items of critical personal protective equipment (PPE) to all 55 counties and tested more than 10,000 people for COVID-19.
Those are among the missions the West Virginia National Guard has completed in the past 80 days in COVID-19 response efforts. Guard members have also trained more than 4,500 civilians and 793 businesses in best practices and created over 77,000 items of PPE.
"Behind this list of accomplishments are the Guardsmen and women who, since day one of this operation, have worked tirelessly to assist their fellow citizens in a time of desperate need," Maj. Gen. James Hoyer, the adjutant general of the West Virginia National Guard, said June 1. "No matter the circumstances, the West Virginia National Guard will continue to be an example of selfless service and dedication to our State and Nation."
Over the weekend, Task Force CRE and Task Force Medical assisted with COVID-19 testing lanes in Berkeley, Jefferson, Kanawha, Mineral and Morgan counties and tested 3,055 people before moving on to assist in Weston for COVID-19 testing of 600 people at the William R. Sharpe hospital.
Task Force CRE and Task Force Medical have conducted 106 COVID-19 lane support missions testing 8,980 people.
Task Force Sustainment, the Guard team dedicated to receiving and moving critical supplies across the state, delivered PPE to one of 55 county emergency managers May 31. This team also helped deliver 550 meals to Ritchie County via refrigerated trailers.
West Virginia Guard have also sanitized 493 first responder and public transport vehicles – ambulances, police vehicles and public transport buses – in Huntington and Charleston.
West Virginia National Guard medical personnel augmenting state health department epidemiology teams supported 69 voluntary COVID-19 mapping engagements. The state's seven regional epidemiology teams have conducted more than 9,295 voluntary COVID-19 mappings.
All missions are part of a coordinated state response initiated by Gov. Jim Justice and led by the West Virginia Department of Health and Human Resources.
Distributed by permission of DOD