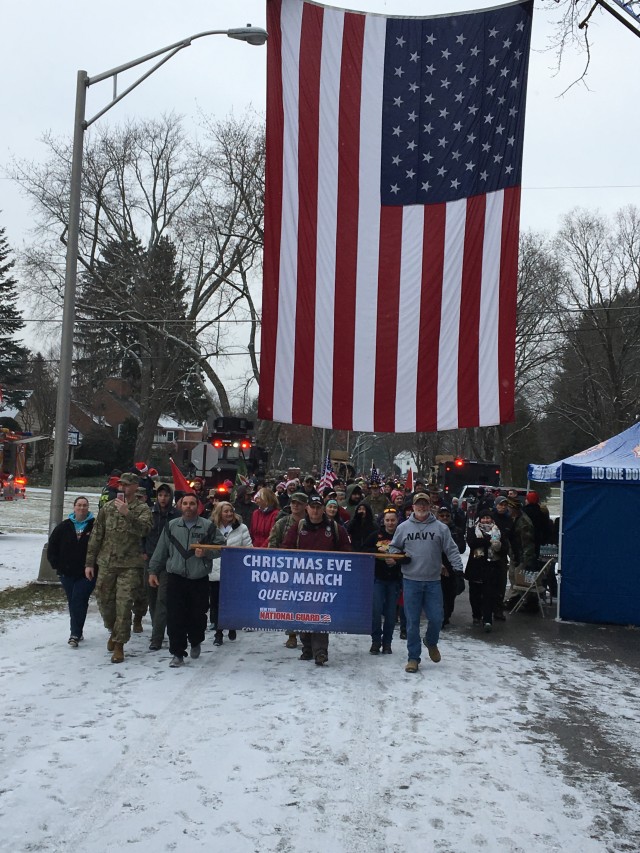 Retired New York Army National Guard Sgt. 1st Class Arthur Coon, center in red jacket, steps off for the 15th annual Christmas Eve Road March in Glens Falls, N.Y., Dec. 24, 2018. Coon has organized the annual event to honor deployed service members s... (Photo Credit: U.S. Army)
GLENS FALLS, N.Y. -- Volunteers from across the New York National Guard joined more than 1,000 military family members, community supporters and Gold Star Families for the 15th annual Christmas Eve road march December 24, 2018 here in Glens Falls to show their support for military personnel serving overseas during the holidays.
The Christmas Eve Road March was first conducted in 2004 when Soldiers of the New York Army National Guard's Company C, 2nd Battalion 108th Infantry, were deployed in Iraq.
A local recruiter, Sgt. 1st Class Arthur Coon, and his wife Julie, coordinated for other Soldiers assigned to the armory in Glens Falls, the 466th Area Support Medical Company, to conduct a road march in their honor.
Ten Soldiers participated in the first event, and it has grown into the thousands ever since.
"After today, we will have marched for 15 years and almost 60 miles!" Coon said to the gathered audience prior to the start of the march. "We have marched beside some of the finest citizens in the country, from civilians to Soldiers to the families of deployed Soldiers and deployed Soldiers themselves when home on leave."
The march has become a tradition to recognize the sacrifices being made by all American service men and women who are on duty away from their families during the Christmas season.
"What a great community we have that has supported this for 15 years. Wow," Coon said.
The 2018 road march was dedicated to honor Gold Star families, Coon said. These families from around the New York Capital District lost loved ones related to overseas deployments for the wars in Iraq or Afghanistan, and have been a large part of the support over the years, Coon said.
"We are honoring the Gold Star families who have been participating with us," Coon said. "Every year we have these families walking beside us."
Several Gold Star families from the area participate in the annual march, Coon said, including the parents of Army Lt. Col. Todd Clark, Army Staff Sgt. Derek Farley, Army Sgt. Kristie Roberts, Army National Guard Sgts. Nate Brown and Chad Byrne and Army National Guard Spc. Zack Bergmeier.
"I always find it so heartwarming that after all these families have been through, they march with us," Coon said.
The effort also encourages donations for care packages to be shipped to troops overseas and provides participants with awards for key contributors.
The road march recognized the largest group, heaviest ruck for both male and female marchers, largest family and largest donation for care packages, Coon said.
"Julie and I couldn't think of being anywhere else on Christmas Eve, it's almost more of a "family" reunion at this point," Coon said. "So many Soldiers, their families, all coming out to support those who cannot be home."
"It's important that as part of our message to those deployed, that we do it on Christmas Eve -- a time when we could all be home relaxing in our pajamas," Coon said. "This sacrifice is symbolic of the sacrifice that our Soldiers are making at this moment, all around the world."
Many in the group had personal ties to retired Sgt. 1st Class Coon from his duties as a local Army National Guard recruiter.
"He gave me the spark to sign up one day," said Vermont Army National Guard Spc. James Kassebaum, assigned to B Troop, 1st Squadron, 172nd Cavalry.
Nearly every Soldier in the road march could point to a connection back to their first enlistment with Coon, Kassebaum joked.
Supporting area units of the New York National Guard that regularly participate included Soldiers and vehicles from the 466th Area Medical Support Company and 1427th Transportation Company, both stationed at the Queensbury Readiness Center. They were joined by Airmen from the 109th Airlift Wing from Scotia, New York, and the 42nd Infantry Division Headquarters, based in Troy, New York.
The march represents family, Julie Coon said, saying that it is symbolic of the wider connection between the Glens Falls community and to its Soldiers and service members who come from that community, Julie Coon said.
"It is about family," Julie Coon said, "It is about welcoming people into that family. It is about supporting that family and it is about being there for that family when they need you."