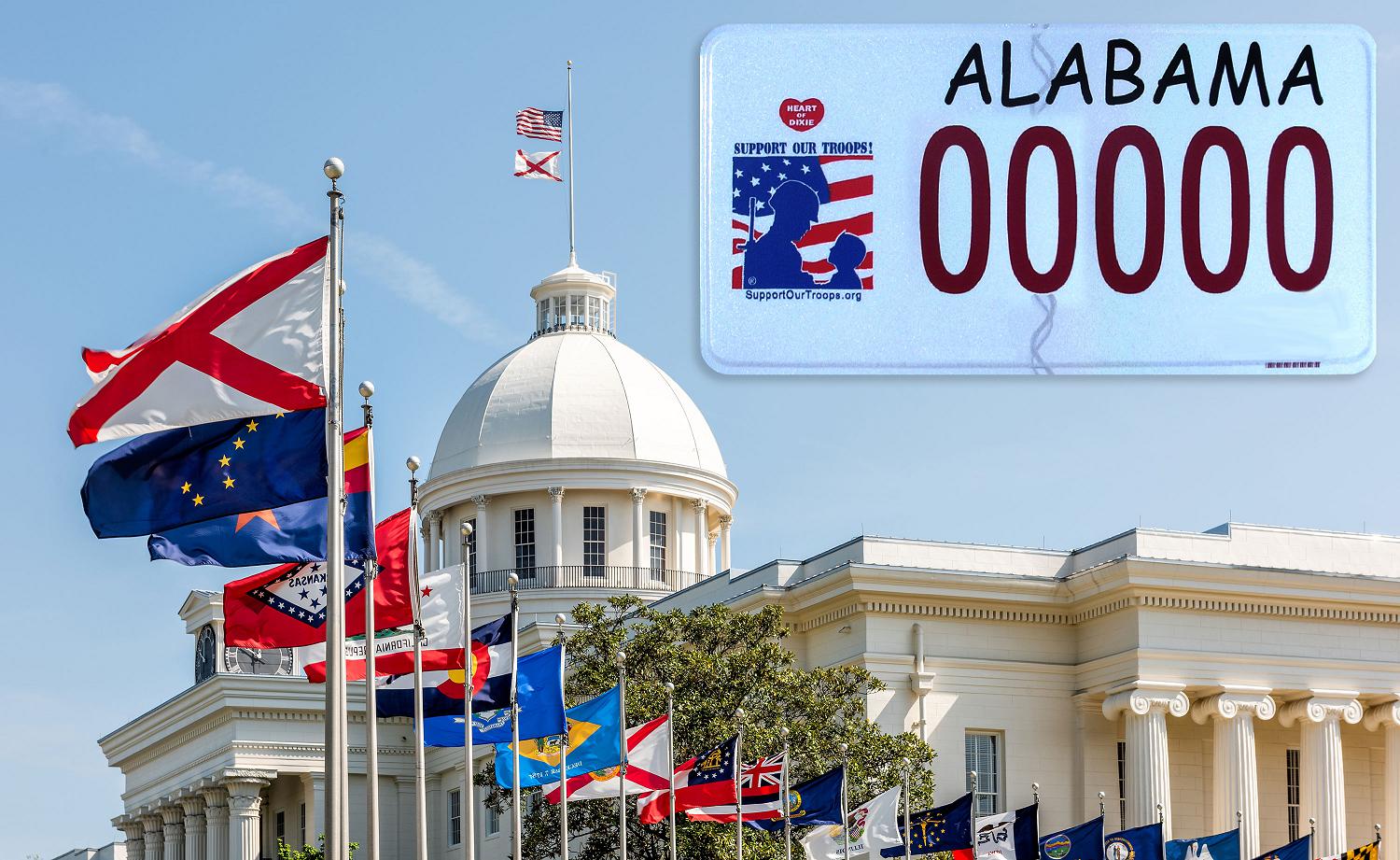 This is where we get to brag on the good Americans who make great things happen for their troops.
SOT has a Support Our Troops! motor vehicle specialty plate in Alabama. Every five years organizations with a specialty plate must gain its reissuance before the Legislative Oversight Committee. This year SOT's number came up and in our preparation we found that everyone on the committee was new to us, there were some new procedures, and there were new options for greater benefit to the troops that we could put in place as part of the reissuance process. Which is where Mr. Logan Gray of the Southern Strategy Group comes in. SOT called him and he worked on all the local preparatory work beforehand. He saved SOT a great deal of time and money in travel and other costs catching us up with the committee members and determining and organizing what did and did not need to be efforted beforehand. On behalf of America's troops and their families, thank-you Mr. Gray, a US Army veteran.
As we went through the preparatory process during the month beforehand, and then as we watched the committee work with the many groups that made their presentations before it was our turn, we observed that the members of the Alabama legislative oversight committee epitomize the American Way and the people of Alabama symbolize what is right in our country. Positive. Helpful. Creative.
To begin with, the specialty license plates are administered by the Alabama Department of Revenue, and Ms. Amanda Fleming with its Motor Vehicle Division oversees them. Ms. Fleming's efforts at organizing the meeting in the middle of the plague were stellar. Competent and with a super-positive attitude she ahead of time proactively called and fixed issues in all of the different organizations' reissuance paperwork so everything would go well. American state government helping, not hobbling. The great American can-do spirit is alive and well in Alabama's state government.
Committee Chair Representative Margie Wilcox was a true refresher in good American government. An ultra-efficient mover of the agenda, she marched the committee deliberately forward through the 20+ plate agenda items, probably because she has been in business her entire life running her own transportation companies. Kudos to long-time business people running our government. See mobilebaytransportation.com and ztrip.com
More than once she made the point that the specialty license plates are a beneficial intersection between the government and the private charitable sector which works on difficult issues. They help fund those charities. Time and again she emphasized the committee's job was to help the plate program succeed, clear barriers, quickly work out snafus or paperwork glitches, and keep things moving forward for the sake of good. Great American values in Alabama!
SOT's two-minute presentation consisted of stating that it is the bridge between the people and their troops, listing four large deliveries of care goods that had been made to Alabama units, holding up a three-page list of individual soldiers from Alabama who had been supplied with care packages for themselves or their units during deployments, and then asking that the plate be reissued to continue the good work.
At that point Representative Anthony Daniels, Minority Leader, moved that the plate be reissued. On behalf of the active duty troops and their families, thank you Rep. Daniels!
A special thank-you to Representative Dickie Drake, first for his long military service defending America and protecting everyone at home, and second for asking to make a comment and then commending SOT because he had actually been a beneficiary of SOT's shipments during his deployment, and thanking all of America's civilians working through SOT to do so much for their fellow citizens when deployed in arms. Rep. Drake served 42 years in the military and is a retired U.S. Air Force Chief Master Sergeant. He served in Operation Desert Shield/Desert Storm, Kosovo, Operation Iraqi Freedom, and Operation Enduring Freedom in Afghanistan. He flew 102 combat sorties with over 500 hours of combat time.
It was noticed that as the shipments that had been made to the deployed soldiers were being read off, each and every member of the committee was nodding their head in affirmation of the good and important work being done -- that is, to make sure the troops know we know they are there and have our backing. The most basic moral equation. Is Alabama a great state with great values or what?
Vice-Chair Senator Jim McClendon's head was nodding. He served in the Navy Medical Service Corps in Viet Nam and afterwards taught clinical optometry at UAB. Another businessman, he was in private practice as an optometrist for many years.
Senator Bobby Singleton's head nodded. He is a consultant with a B.S. Degree in Criminal Justice from Alabama State University and a Juris Doctor from Miles College.
Senator Clyde Chambliss's head nodded as he listened. Another businessman, he is the Principle Engineer for Chambliss Engineering (CE). Chambliss Engineering provides civil engineering services to local governments, developers and water systems.
The other committee members' heads were nodding, gratified with successful work supporting those who support all of us: Oline Price, Lee County Revenue Commissioner,
Judge Will Tate, Crenshaw County Probate Judge, Joseph Cannon, Limestone County License Commissioner, Annie Wilson, Sumter County Tax Collector, and Captain Jon Archer, Alabama Law Enforcement Agency.
And as we left the meeting and walked down a beautiful sunny street in Alabama, we thought about those good Americans on that committee who just made great things happen for their troops. They did so by trusting their fellow Americans. By running a license plate program created out of thin air, that then sets about addressing many types of needs. Prosperity. Production. Creation.
It's clear that great things happen in Alabama!