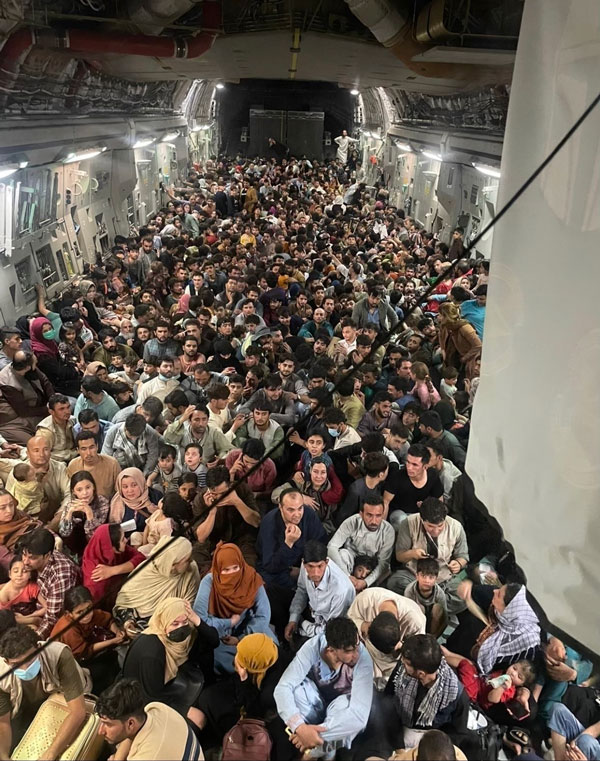 A U.S. Air Force C-17 Globemaster III safely transported 823 Afghan citizens from Hamid Karzai International Airport, Aug. 15, 2021. The initial count of 640 passengers included only adults, inadvertently leaving off 183 children seated in laps as passengers were transported from the flight line. The correct total passenger count of 823 is a record for the C-17. Photo by USAF photographer.
From Your SOT Team:
To best serve the active-duty troops and their families, Support Our Troops must closely interact with state and federal agencies, and political leadership. The troops can best be served by Support Our Troops closely coordinating with such, and that cannot reasonably be expected if SOT also acts as a critic or watchdog. Those functions abound elsewhere.
Therefore in according with long-standing SOT Policy #10-02, other than enthusiastically encouraging, supporting and rooting for the success of and support for America's troops, Support Our Troops does not take or express a position for or against any peacekeeping mission, action, natural disaster mobilization, war or the like, including: going into it, conducting it; or concluding it. Support Our Troops' position is that good American's always support America's troops and their families without regard to the particular deployment.