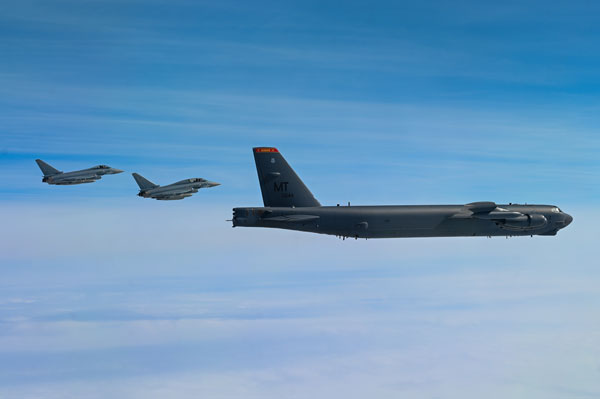 Mediterranean, April 5, 2022 – Two German Air Force Eurofighters escort a United States Air Force B-52H Stratofortress assigned to the 69th Expeditionary Bomb Squadron at RAF Fairford, England April 5, 2022. The German Air Force escorted the 69th EBS on their way to the Mediterranean region to integrate with Allies as part of pre-planned Bomber Task Force Europe series of missions. Photo by Airman 1st Class Zachary Wright.
FLYING AIRCRAFT TWICE THEIR AGE…
America's Fighting "Nighthawks" Take to the Sky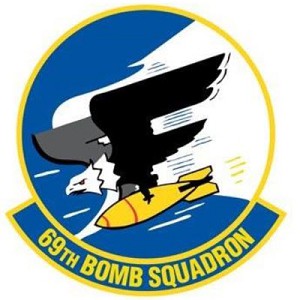 Hats off to the brave members of the storied 69th Expeditionary Bomb Squadron, currently based in Fairfield, England, seen in action Courtesy of Military Photographer Airman 1st Class Zachary Wright.

It's true. The young pilots and aircrews of today's B52 Stratofortress operate planes that are often more than twice their age.

The veritable American B52 Stratofortress first flew in 1952, 60 years ago this year, and is the longest serving aircraft in the world according to the Air Force. When extensive refitting is completed, the 69th Squadron will likely fly these ships beyond the year 2030.

The "Nighthawks" got their name from the fierce American Nighthawk (Chordeiles minor), a nocturnal predator that hunts by night, is difficult to spot with the naked eye in the daytime and is best known for its terrifying shriek in the darkness.
The tale of the 69th Expeditionary Bomb Squadron stretches back to the early days of World War II. The squadron flew dangerous missions across the Pacific, from New Caledonia to Guadalcanal, earning both fear and respect from the enemy.
This legendary squadron saw extensive action in Viet Nam flying Arc-Light missions from 1965 through 1972 to strike at enemy bases and interdict supply routes and troop concentrations. The unit also provided close air support for troops on the ground, saving many lives.

The fighting Nighthawks appeared above the skies of Iraq and Kuwait during Operation Desert Storm (1990-91) as they flew missions from Diego Garcia in the Indian Ocean.

Today's Nighthawks continue their celebrated tradition, flying missions a long way from home, risking their lives so we can sleep safely knowing they are out there. The Support Our Troops organization routinely ships sundries and other comfort items to our troops serving overseas. We want the Nighthawks to know, and active-duty service folks across the world that we appreciate their sacrifice.