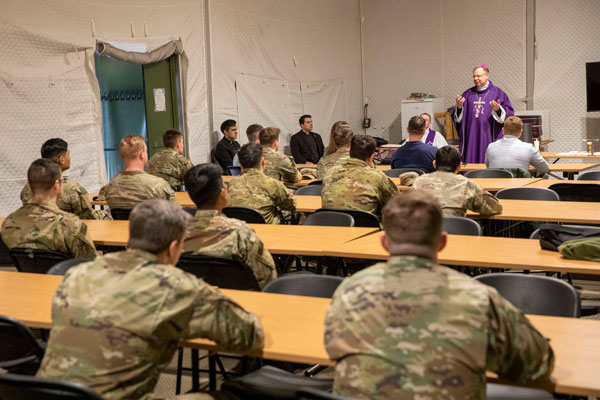 PABRADE, LITHUANIA, April 12, 2022 - U.S. Army Soldiers with 3rd Battalion, 66th Armored Regiment, 1st Armored Brigade Combat Team, 1st Infantry Division, attend Catholic mass hosted by Lithuanian Archbishop Gintaras Grušas, at Camp Herkus, Lithuania, April 12, 2022. Photo by Sgt. Brandon Bruer.
The famous "Devil" Brigade of the 1st Infantry Division, one of the Army's oldest units, are deployed to Lithuania to shore up NATO's easter front and to train with local forces. Deployed last year, the "Big Red One" joins over 100,000 Americans facing down threats from the Russians.

At SOT, we stand ready to assist these brave men and women and their families on all manner of assistance, from help paying rent to comfort shipments overseas, SOT is there for our troops when they need us. Please, join our family, right now. Show your continued support for these young warriors as they stand in defense of freedom.