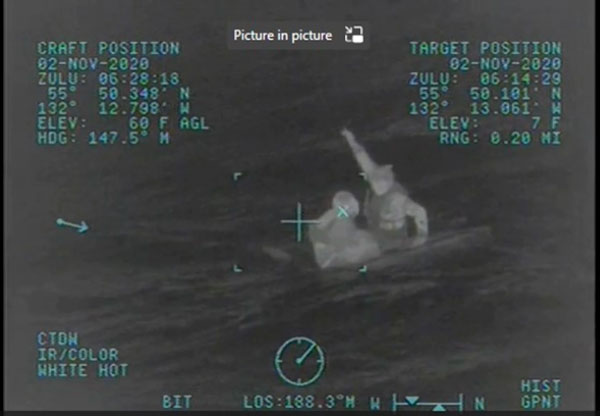 SITKA, ALASKA - APRIL 29, 2022 - Is there anything more terrifying than being caught in a violent storm at sea, tossed by angry waves as your vessel is slowly sinking? Fortunately for American mariners, there is always someone to turn to in such a predicament, the United States Coast Guard.

Officially designated "Aviation Survival Technicians or AST's," these "Rescue Swimmers" undergo the most grueling training imaginable, and their graduation rate hovers around 50 percent. The most elite unit in the Coast Guard, AST's must pass a rigorous 18 weeks of relentless conditioning and psychological training to accomplish daring sea extractions under horrendous weather conditions.

A typical day for recruits starts on land with endurance training, push-ups, rope climbing, kettle bell workouts and long runs to increase stamina followed by water-based drills including 2000-yard laps, swimming with weights and treading water exercises.

Next comes "water confidence" drills ranging from practice saving downed pilots to instructors playing victims thrashing madly against their rescuers. Only the calmest, most focused AST's are capable of saving frightened, drowning people in the maelstrom of a violent storm.
The Coast Guard AST program was born out of the tragic loss in 1984 of the Marine Electric, a cargo ship carrying thirty-four crew members that sank in freezing waters enroute to Massachusetts. Although Coast Guard assets arrived quickly and lowered baskets, the frigid sailors were too numb to pull themselves to safety. Thirty-two mariners lost their lives before Navy swimmers arrived on scene.

Congress reacted to this tragedy by establishing the Coast Guard's swimmer school at Elizabeth City, North Carolina whose graduates save countless lives every year.

In this actual photo of a successful rescue, Petty Officer Second Class Grant Roberts (right), a rescue swimmer with the Coast Guard Air Station, Sitka, Alaska sits on a piece of debris with the survivor of the wrecked fishing vessel "Irony." For their heroic actions, Roberts, along with shipmates Lieutenants Justin Neal and Jonathan Orthman received the Department of Homeland Security's Secretary's Award for Valor. Photo by Sara Taylor.

~~ SSG Jim (rt'd), of Your SOT Team