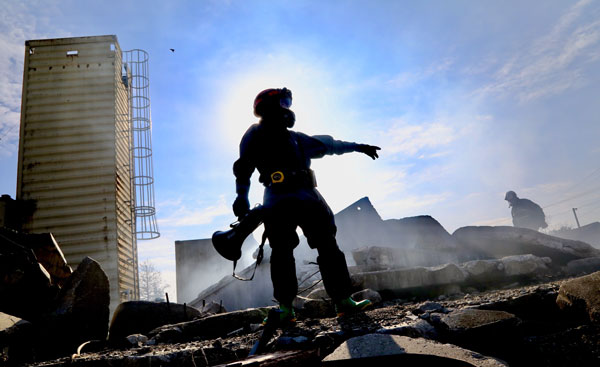 MUSCATATUCK URBAN TRAINING CENTER (MUTC), Butlerville, Indiana - MAY 3, 2022 - A building has collapsed. Smoke from burning debris adds to the chaotic scene as rescuers race to find survivors.

This was no earthquake or terrorist attack, but a simulated disaster in a replicated urban environment where no one lives. Welcome to Muscatatuck Urban Training Center (MUTC), Indiana, a fabricated city with over 1,000 acres containing 190 brick and mortar buildings, 1.8 miles of subterranean tunnels and more than nine miles of roads.

In this photo by Sergeant 1st Class Brent C. Powell, a soldier from the 409th Engineer Company, based in Aurora, Colorado, stands on a pile of rubble while directing fellow soldiers where to look for "survivors" in a simulated building collapse.
The MUTC is a globally unique training ground where soldiers participate in a variety of highly realistic urban scenarios including disaster response, house by house searches, and even "culturally correct" situations where people, and even the appropriate animals, are "at play."

Practically any urban situation can be created at the MUTC, including live fire exercises, search and rescue, and urban warfare techniques.

~~ SSG Jim (rt'd), of Your SOT Team