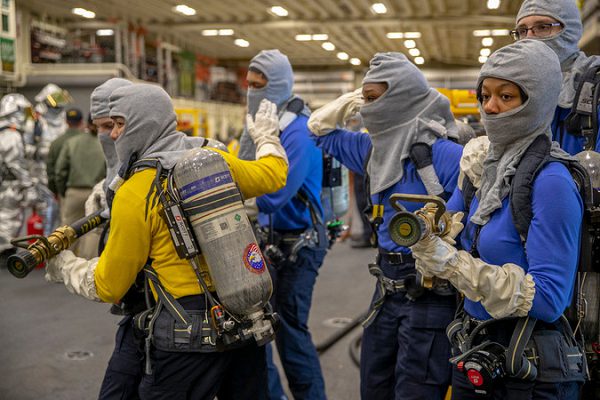 Aboard the U.S.S. Tripoli, Pacific Ocean. May 10, 2022: One of the biggest hazards our nation's sailors face at sea, a sudden is an uncontrollable fire. Unlike on land, there is no place to run from a fire aboard a ship, especially a warship full of explosives.
Imagine yourself on a modern aircraft carrier with fighter jets taking off, helicopters landing on a deck with tons of high explosives below. Any accident could cause an explosion threatening thousands of lives in mere minutes. The fate of the crew lies in the hands of its highly trained Damage Controlmen. Yes, they fight fires, but are capable of so much more.
Danger is ever present in naval operations, on ships as well as submarines.
All American sailors receive training on damage control and basic emergency medical skills in such an emergency, Damage Controlmen are the Navy version of "first responders," trained in firefighting, chemical, radiological, and biographical warfare, and the steps necessary to stabilize a ship on fire.
Damage Controlmen begin their careers at Basic Engineering Common Core "A" School at Great Lakes, Illinois. Here they receive 10 weeks of training on the ins and outs of firefighting systems, shipboard damage control, ship stability and drainage systems. Additionally, each Damage Controlmen must learn to operate emergency breathing devices, de-smoking and gas analyzing equipment.

A real-life example of the skill and bravery of Navy Damage Controlmen is appropriate here.
When cowardly Al Qaeda terrorists attacked the U.S.S. Cole on October 12, 2000 while she refueled at the Yemini port of Aden, Lieutenant Commander Deborah W. Courtney, serving as engineer officer, sprang into action. Courtney directed the damage control response. According to her Navy Meritorious Commendation for actions that day, Commander Courtney's "confident and decisive actions limited progressive flooding that endangered the ship, contained thousands of gallons of leaking fuel oil, which threatened to set the ship ablaze."
Seven others received Navy commendations for their bravery and swift action that saved both the ship and hundreds of lives. The U.S.S. Cole remains in active service to this day.
They deliver for us -- we deliver for them. A simple moral equation. Care packages, sports equipment, phone cards, specialty equipment, and more, all yield high morale.
In this photo by Specialist 2nd Class Malcolm Kelley, Sailors practice hose team movements during an aviation firefighting drill in the hangar bay aboard the amphibious assault ship.