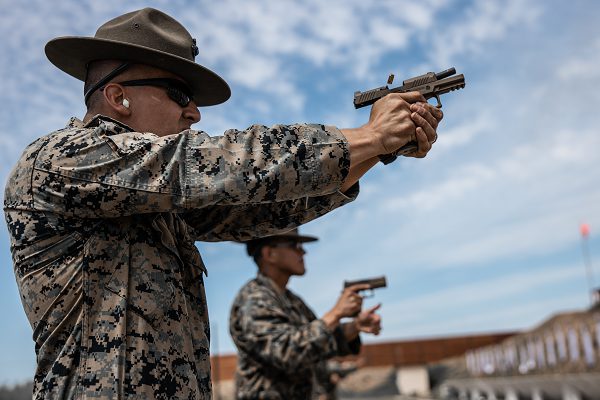 Paris Island, South Carolina (April 28, 2022): The most terrifying, and yet most reassuring figure a Marine recruit encounters when they "step on the yellow footprints" on their first day in Basic Training is the Marine Drill Instructor.
Unlike Hollywood portrayals of sadistic sergeants abusing trainees, today's Marine Corps Drill Instructors are consummate professionals who, despite their stern bravado, are there to encourage and protect their charges.
The honor of shaping the "future of the Marine Corps" is not bestowed easily.
Only elite Marines are selected to attend the grueling 11-week Drill Instructor Course at the Marine Corps Recruit Depot, Paris Island, South Carolina. They are the Marines' best and brightest, eager to continue the 238-year tradition of "making Marines" by instilling the values and ethos that make the Corps the finest seaborne infantry in the world.
This is serious business.

Only six hundred Drill Instructors shape the 20,000 marine recruits who arrive at Paris Island every year and these elite trainers must be both physically fit and psychologically strong to accomplish their mission. Every Drill Instructor must establish a "command presence" among recruits who come from all walks of American life. They are experts at drill, physical training, marksmanship and can lead by example. To uphold the Marine Corps tradition, Drill Instructors must have the highest personal standards of conduct, morality, and professional skill.
After graduation, each new Drill Instructor commits to a three-year stint molding civilians into the world's premier fighting force.
How can YOU support these "newly made" Marines, especially on their first overseas deployment? Support Our Troops.org is there for these young service members, from individual care packages to enterprise level care goods distributions to military installations both home and abroad. The support needs of our active duty never end and is constantly expanding. With an operating overhead of less than 5%, you can be sure your donations result in meaningful quality of life enhancements for the average troop. Don't wait. Donate today!

Your SOT Team