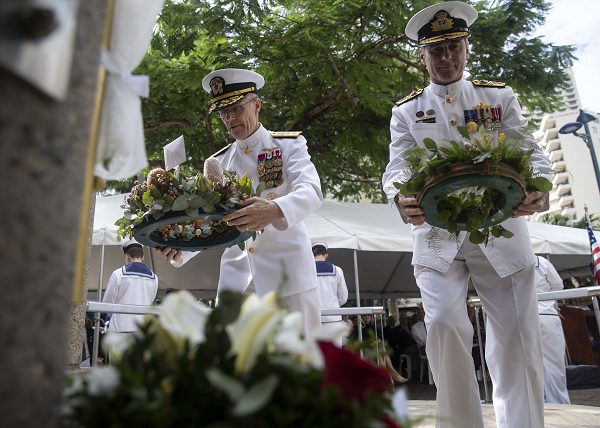 Surfers Paradise, Australia (May 8, 2022): It had been six months since Imperial Japan's dastardly attack on Pearl Harbor and the Americans had yet to slow the inexorable march of Japan's naval fleet across the pacific, until the Battle of the Coral Sea.
This was the worlds' first modern naval engagement. Unlike previous wars where enemy ships squared off, firing directly at one another, this battle was fought between airplanes out of sight of their carriers. U.S. and Japanese warplanes dueled for two vicious days with both sides suffering tremendous losses.
It all began when the Americans broke Japan's secret code and discovered a large Japanese fleet was enroute to the Coral Sea (a vast expanse of ocean between our ally Australia and New Caledonia in the pacific). Japan planned to invade strategic Port Moresby, New Guinea, and the Solomon Islands so the Americans sent every available carrier strike group to confront the Japanese armada.
A horrendous air battle ensued that resulted in the loss of the U.S. aircraft carrier the Lexington and 216 of her sailors. Although costly, the battle not only halted the Japanese advance but reduced, by one third, the number of carriers available for an even bigger battle to come, the Battle of Midway.
(Interesting Note: During the confusing air battle, two Japanese fighters mistook the U.S.S. Yorktown for their own carrier and attempted to land on its deck. The Americans fired ferociously at the planes who, miraculously, managed to escape.)

In Memorial. Pictured here is Admiral Robert Clark, joined by his Aussie counterpart Rear Admiral Robert W. Plath as they lay a wreath to commemorate the 80th anniversary of the Battle of the Coral Sea. Admiral Clark commands the U.S. Pacific 7th Fleet, which routinely operates with 35 maritime nations to preserve freedom in the Indo-Pacific region. (Photo by Specialist Aron Montano.)
Editor's Note: In a case of historical irony, China has recently signed a military cooperation agreement, including military bases, with the same Solomon Islands chain that was the battlefield of the Coral Sea. With aggressive plans to expand their territorial ambitions south across the pacific to Australia, China is establishing a military foothold that threatens America's allies. They have even built full-size mock-ups of our aircraft carriers and other ships in remote deserts to test their hypersonic anti-ship missiles. A storm is coming.

Hard work. Interesting jobs. Super-cool equipment. Risk. Danger. Reward. Pride. America's active-duty service members have perhaps the widest ranging and uniquely fulfilling missions of all professions. Due to threats from Russia and China, the tempo of their deployments continues to accelerate. This means the need for the SOT Team's care packages has never been greater and your support even more vital. Help answer the call by donating funds to keep support shipments flowing to our deployed military. Let's give them "whatever they need, when they need it, wherever they are."
Your SOT Team