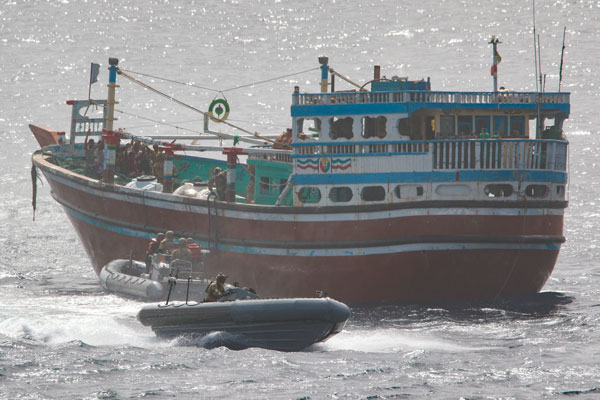 Gulf of Oman (May 16, 2022): There you are, just your average drug smuggler, minding your own business, when the "Swede" arrives.
In this case, it is the U.S.S. Momsen, an American Arleigh Burke-class Guided Missile Destroyer assigned to the U.S. 5th Fleet doing a friendly "Flag Check" on a suspicious fishing trawler off the Gulf of Oman in waters known for illegal activity. Named after Vice Admiral Charles B. "Swede" Momsen (1896-1967), this vessel is part of a 34-nation task force confronting maritime threats in the Middle East.
This is always bad news for drug smugglers.
As the U.S.S. Momsen approached, the ship's nine-person Iranian crew attempted to dump some 60 barrels of the drug overboard. Total haul; 640 kilograms of Methamphetamine worth $39 million.
This remarkable photo by Navy Mass Communications Specialist 3rd Class Lily Gebauer captures the seizure in real time as Momsen crewmembers storm the fishing vessel.
Many may not realize the reach of America's Navy around the world, enforcing maritime law and protecting innocents from harm. This U.S. led task force of 34 nations confiscated $193 million worth of contraband last year and is the largest multi-national naval partnership in the world.

The "Swede" himself is credited with the first successful rescue of a sunken submarine and his namesake helped pioneer remote mine-hunting systems using unmanned watercraft. The U.S.S. Momsen remains on station guarding our nation today.
Active-duty Sailors deployed around the world stand in harms way, every day, for you and me. Won't you take a moment, right now, to show your Yellow Ribbon support by donating to Support Our Troops.org, a charity dedicated to troop support through, among many other things, care packages to improve the lives of our servicemembers at home and abroad.
Go to: supportourtroops.org/donate