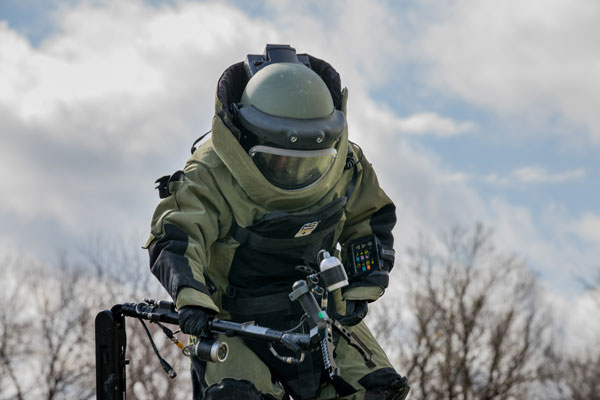 Ft. Carson, Colorado (April 4th, 2022): Parents hate to admit it but lighting those 4th of July firecrackers can be a bit intimidating, what with the high explosives and all. Most of us try to avoid things that tend to explode, let alone willingly seek out the most dangerous ordnance (bombs) in the world.

In this photo by Staff Sergeant Apolonia Galspar, First Lieutenant Ian Roxas, Ordnance Disposal Officer with the 764th Ordnance Company, is fully geared up while participating in the "Ravens Challenge" at Camp Gruber, Oklahoma. The Challenge is a gathering of Explosive Ordnance Disposal Technicians from multiple nations, all branches of the military and local governments to hone their skills while sharing the latest on bomb disposal technology.
This proud unit served in the Pacific in World War II including Saipan and the Philippines and most recently in Iraq and Afghanistan.
To become an Explosives Ordnance Disposal Technician, you must pass a grueling 36 Week School at Ft. Lee, Virginia that is both physically demanding and psychologically challenging. Students study electronics, chemical and biological agents, and robotics while training to remain focused in dangerous situations. As you can imagine, this course has a high attrition rate. Graduates go on to handle assignments around the world.
Let us remember these brave servicemembers, many of whom spent years defusing improvised explosives in Iraq and Afghanistan, and the many sacrifices they make for all of us. Your donations to Support Our Troops.org results in troops support care packages for servicemembers at military bases here, and around the world. Remember: If they're there, we're with 'em®
Go to: supportourtroops.org/donate