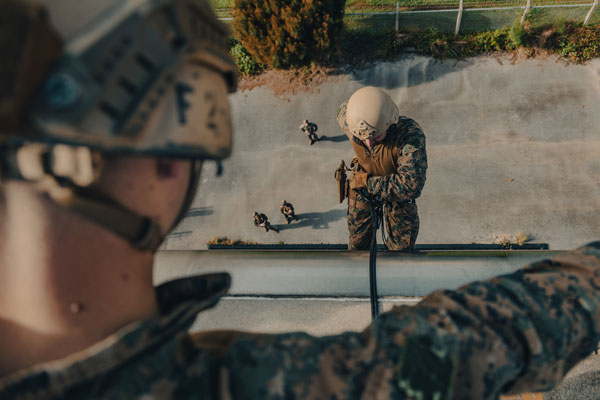 Okinawa, Japan. (April 11, 2022): A Marine commander is ready to commit forces to a combat action, say a helicopter insertion of troops in a foreign land, and needs someone to "paint a picture" of potential enemy activity. Send in Marine Force Recon, they go a lot of places other folks can't.
The mission of this elite Marine unit is to conduct amphibious reconnaissance deep behind enemy lines, observing an adversary's position and relaying this intelligence in real time to commanders back at headquarters. Marine Force Recon is best at sneaking up on an opponent, often close enough to hear them chatter, without ever being seen. They arrive by parachutes, helicopters, or emerge from the water to be the eyes and ears of Marine Expeditionary Force Commanders and fight as highly specialized infantry when needed.
In this photo by Corporal Grace Gerlach, a U.S. Recon Marine with the 31st Marine Expeditionary Unit rappels from a helicopter while training at Camp Schwab, Okinawa, Japan. The 31st is the Marine Corps' only continuously forward-deployed unit that provides a flexible and lethal force for a wide range of military operations around the globe. These Recon Marines are the premier crisis response force in the Indo-Pacific region.
It is comforting for all Americans to know these courageous warriors are standing by, right now, to accept dangerous missions anywhere in the world. Let these brave Marines know that If they're there, we're with 'em® by donating to Support Our Troops.org, a non-profit charity constantly providing care packages and family support to active-duty servicemembers wherever they are.
Go to: supportourtroops.org/donate