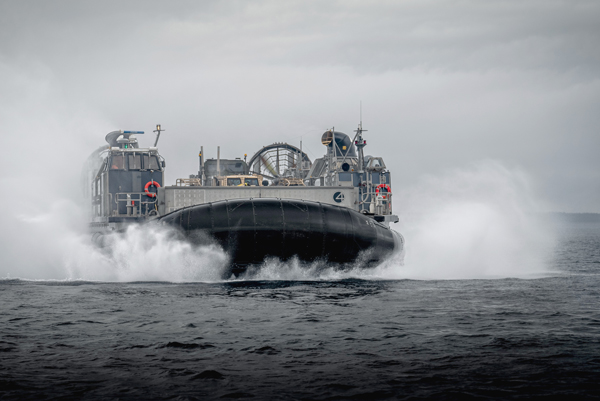 Baltic Sea (May 20, 2022): When the Marines want to arrive in style, their most popular choice is the Navy's Landing Craft Air Cushioned (LCAC) capable of roaring ashore onto 70 percent of the world's coastlines.
Watching this modern marvel streak toward shore on a cushion of air reminds us of the veritable "Higgins" Boat landing craft of World War II fame. Named after Andrew Higgins, a feisty Irishman and small boat builder from New Orleans who had a famous taste for whiskey and a hair-trigger temper, Higgins was so certain of his design that he bought up the entire 1939 crop of mahogany from the Philippines in anticipation of winning the Navy contract.
In a 1964 interview, President, and former General Dwight D. Eisenhour credited Higgins as "the man who won the war for us" and that, without his invention, "we could never have landed over an open beach. The whole strategy of the war would have been different."

Higgins boats were 36 feet long and could carry up to 18,000 pounds at a blistering 10 miles per hour. Just over 23,000 were built during the war.
Today's LCAC's is a high-speed amphibious landing craft that can deliver payloads of up to 75 tons of weapons, vehicles, and even M-1 Tanks ashore. In addition to seaborne landings, the LCAC is called to help in seaborne evacuations or to insert Marine Special Operators and their equipment on land. For techno-nerds, this baby is 91 feet long and blazes along at up to 46 mph fully loaded. She is powered by four gas turbine engines that produce roughly 16,000 horsepower and has a range of 200 miles. With a crew of five, the LCAC is armed with two .50 caliber machine guns and 40 mm grenade launchers.
Bell Aerospace won the initial contract to create today's LCAC, the first was delivered to the U.S.S. Germantown in 1987, and 91 of these unique vessels were produced.
In this photo by Mass Communications Specialist 3rd Class Taylor Parker, an LCAC attached to Assault Craft Unit 4 launches from the Wasp-class amphibious assault ship U.S.S. Kearsarge in the Baltic Sea in support of U.S. Naval Forces Europe.
As our forces gather in defense of Europe, Support Our Troops is doing everything possible to support them and their families back home. Please take a moment, right now, to contribute to this important effort to get our deployed military servicemembers what they need when they need it.